6 Delicious Banana Recipes You'll Want to Try Today (Plus 8 Excellent Reasons Why You Should!)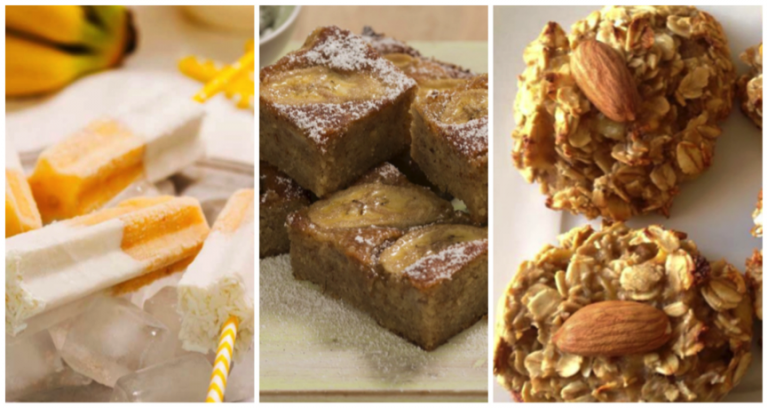 6 Delicious Banana Recipes You'll Want to Try Today (Plus 10 Excellent Reasons Why You Should!)
 Sponsored post 
Did you know that Australians munch their way through 5,000,000 bananas every day? And with good reason too! Bananas are bursting with long-lasting energy and have loads of health benefits for the whole family!
Australian Bananas Facts
Bananas make the perfect snacks for mums-to-be.  During the second half of pregnancy additional energy is required to support the growing unborn baby. Approximately 850-1100 kJ per day is needed, which is equivalent to 2 bananas!
For those suffering from morning sickness accredited dietitian Glenn Cardwell recommends eating something before you get out of bed in the morning.
'Eating dry crackers, toast or a piece of fruit like a banana in the morning before you get out of bed, and having small snacks frequently through the day can help as it keeps the stomach from being empty, which can make you feel unwell.'
Bananas are a great food for breastfeeding mums since they contain major vitamins including B vitamins, especially B6, folate and vitamin C.
Bananas are an ideal food for babies starting solids and a small amount of ripe banana can be mashed with breast milk or formula. Gradually as a baby gets used to chewing, more banana can be added to increase the texture.
'Half a medium banana will give an infant 33% of their daily folate needs, 25% of their magnesium needs and 50% of their vitamin B6 needs' Cardwell explains.
A cool or frozen banana can also double as an edible teether for infants/toddlers, who may find relief from the pain and discomfort of teething by sucking and chewing on the cold surface of a banana.
School children need the right food to ensure their bodies and minds develop to their full potential. Bananas are extremely nutritious and packed with natural carbohydrates, vitamin B6 and potassium – offering a balanced blend of goodness for growing bodies and brains! Bananas make the perfect no-fuss school lunch snack – they're easy to peel and don't need to be refrigerated.
Bananas are naturally fat-free and high in fibre (approx. 2.4g fibre per banana) meaning they are a fantastic snack option for those looking to prevent weight gain or even lose weight.
Bananas are the perfect fruit for those with diabetes. The natural sugars in bananas are slowly absorbed from the intestines giving it a low Glycemic Index, (low GI).
Bananas contain as much fibre as 1-2 slices of multigrain bread. Fibre is important and helps prevent constipation. In fact, folate and a type of fibre called 'resistance starch' (both of which are present in bananas) are believed to be beneficial in preventing colon cancer.
Feeling down in the dumps? Thanks to the carbohydrates and vitamin B6, bananas are a natural mood booster. 
Banana Recipes You'll Want to Try Today
Delicious on their own, bananas are also incredibly versatile, and can be added to drinks, treats, snacks and even savoury dishes.  Here are just a few of our favourites.
Banana Pops
This banana pops recipe is 100% sugar free and requires just 3 ingredients. It doesn't get much easier than that! Get the recipe here
Flour-less Banana and White Chocolate Almond Slice with Orange Blossom
If you are looking for a sweet treat that's still on the healthy side you will love this slice recipe. Get the recipe here.
Healthy Banana Oat Cookies
What could be better than a cookie that can be made with just 3 ingredients, prepped in 5 minutes and cooked in 10 minutes? These quick, yummy and healthy banana oat cookies are the perfect lunchbox snack and a great way to use ripe bananas. Get the recipe here.
Heavenly Tropical Passion Fruit Ice-Cream
Tip: Store chopped bananas in the freezer for use in smoothies and ice cream!
With just 3 ingredients you can turn your frozen bananas into this simple but delicious passion fruit ice-cream in just 10 minutes! Get the recipe here.
Banana Guacamole
Take your guacamole to a whole new level by adding banana!
Get the recipe here,  or for a family-friendly option that the kids will love (minus the chilli etc try the banana guacamole for kids). 
Bananas Wrapped in Bacon
Believe it or not bananas and bacon are a marriage made in heaven – delivering the perfect balance of sweet and salty! We don't recommend eating this one everyday but it'll soon make it's way up to the top of your treat food favourites and is to die for served with pancakes and maple syrup!
Get the recipe here.
You can find all these delicious recipes plus more on the Australian Bananas website 
To stay up to date follow Australian Bananas on Facebook & Instagram: @australianbananas
With so many ways to eat bananas there is no excuse to ever throw another one away!