Banana Oat Muffins Recipe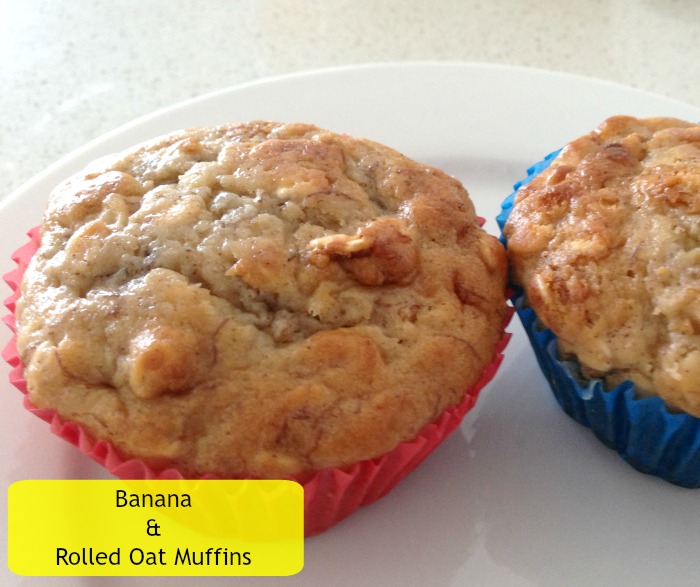 Banana Oat Muffins Recipe
With the school holidays drawing to a close, many of us are fast running out of ideas to keep the kids entertained during these last couple of weeks.  Baking with the kids is such a great way to keep them entertained for a good length of time, as well as helping them to learn new skills and have fun at the same time!  Best of all, you can all enjoy a yummy treat at the end!
These Banana and Oat Muffins are a great recipe to make with the kids, as there is lots of measuring, sifting, mixing and mashing involved.  This recipe will also hold up well to any extra ingredients the may add!  These muffins taste great, and are a brilliant way to use up those browning bananas that ALWAYS seem to be sitting in your fruit bowl!
Banana Oat Muffins Recipe
Ingredients
2 cups of self raising flour
1 teaspoon of ground cinnamon
1/2 teaspoon of bicarbonate of soda
1 cup of rolled oats
1/2 cup of brown sugar
2 eggs
3/4 cup of plain/vanilla low fat yoghurt
1/4 cup of canola oil
2 bananas - mashed
Instructions
Preheat your oven to 200 degrees and line a 12 hole muffin tin with paper cases.
Sift the flour, cinnamon and bicarbonate of soda into a bowl.  Add the rolled oats and sugar before stirring to combine all ingredients.
In a separate bowl, whisk together the eggs, yoghurt and canola oil until combined. Add the mashed bananas before adding to the rolled oats mixtures and stir until just combined - the mixture will still be a little lumpy.
Spoon the mixture into the paper cases until the are approximately 2/3 full.
Place the muffin tray into the oven and bake for approximately 20 minutes or until the muffins are beginning to turn a lovely golden brown colour and are cooked through.
https://mumslounge.com.au/lifestyle/food/banana-oat-muffins-recipe/
Notes
Be careful not to over mix when combining the dry and wet ingredients as this will result in a 'tough' muffin.  The mixture should still be lumpy.
The muffins can also be frozen for up to one month.
Do you enjoy baking with your kids? What is your favourite recipe to make with them?