Bangers And Mash with Beer and Onion Gravy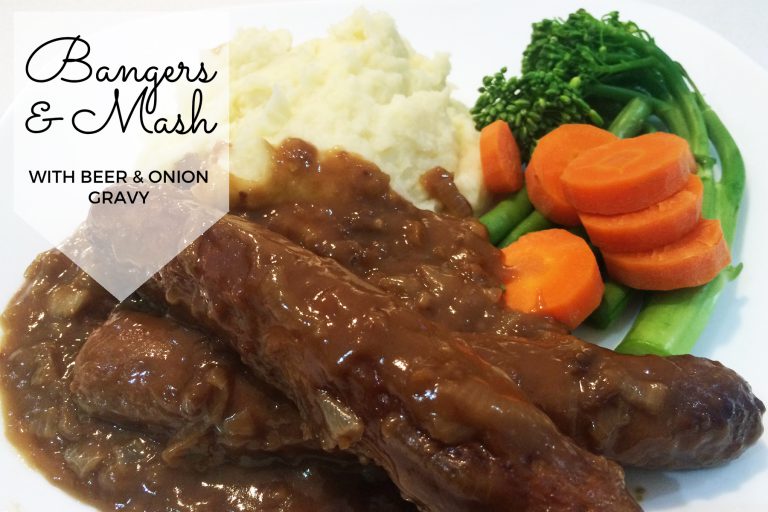 Bangers And Mash with Beer and Onion Gravy
Add Bangers And Mash with Beer and Onion Gravy to your meal plan this week if you want comfort food that will have your bloke licking his plate! This simple, budget-friendly meal is perfect for a cold night and it's always good to find a new way to cook sausages (ie, bangers!). In this case, they are baked in their own gravy in a big casserole dish in the oven for nearly an hour, filling the house with the richest aroma!
Possibly the best part of this recipe is the need for a dark, full bodied beer – but not a full bottle! So you get to fight over who drinks the rest of the bottle and who gets to do the washing up. Good luck with that one!
Bangers And Mash with Beer and Onion Gravy
Ingredients
8 good quality sausages
2 tablespoons Olive Oil
2 medium brown onions, sliced into rings
80gms butter
1 heaped tablespoon plain flour
1 teaspoon brown sugar
2 cups beef stock
200ml Guinness Extra Stout beer
Mashed potato and vegetables to serve
Instructions
1. Pre-heat oven to 160°C
2. Fry the sausages in an ovenproof casserole pan in olive oil until lightly browned, then remove and set aside.
3. Melt the butter in the pan and add onions, cooking over a moderate heat until the onions take on some colour.
4. Stir in the flour and cook for 3-4 minutes, stirring occasionally, then add the sugar. Return the sausages to the pan, pour in the stock and beer then bring to the boil for a minute or so.
5. Cover the pan with a lid and place in the oven for 50 minutes. Drink the beer you didn't use in the recipe, and prepare some creamy mashed potatoes and vegetables.
6. Serve sausages with mash and veggies and spoon the rich gravy over the top.
https://mumslounge.com.au/lifestyle/food/bangers-and-mash-with-beer-onion-gravy/