Salted Chocolate Chocolate Cake Recipe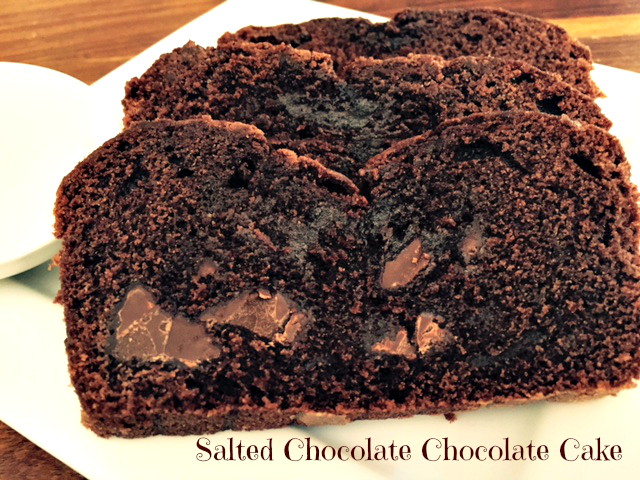 Salted Chocolate Chocolate Cake Recipe
First, there was salted caramel. Now…I present to you, salted chocolate. Salted chocolate chocolate cake to be exact which is a bit of a mouthful but just salted chocolate cake doesn't tell the true story because the cake itself, is not salty and it is a chocolate cake in its' own right. But it has salted chocolate chunks inside the chocolate cake. This cake is based on a cake found in one of Dorrie Greenspan's cookbooks. Dorrie is an American cook who spent many years in Paris and collected recipes from French chefs not that they made in their restaurants, but that they cooked at home for their own families. Rustic, honest, easy recipes.
The salted chocolate is the stand-out of this cake. You have to make that component first (which is totally easy, just melted chocolate with some added salt which you freeze) so give yourself an extra hour for freezing time before you begin the actual cake. It keeps for around 4 days wrapped in plastic wrap (if it lasts that long) so perfect to tuck into lunch boxes with no messy icing and is equally delicious with some cream or ice cream. The cake is so moist it doesn't need icing (thanks to a sugar syrup which is brushed over the top and sides while still hot). I would also suggest you double the salted chocolate quantity and keep some to serve with some vanilla ice cream. Or all on its' own. Yum!
Salted Chocolate Chocolate Cake Recipe
Ingredients
Salted Chocoalte
170g (6 oz) bittersweet chocolate, coarsely chopped
1/4 tsp fine sea salt
Cake
1 cup all purpose flour
1/3 cup unsweetened cocoa powder
1 1/2 tsp baking powder
pinch of fine sea salt
185g (6 1/2 oz) unsalted butter, at room temperature
1 cup sugar
4 large eggs, at room temperature
Syrup
1/2 cup water
2 1/2 tbsp sugar
Instructions
Salted Chocolate: Line 3 muffin cups or custard cups with non-stick baking paper. Melt the chocolate in a double boiler or microwave and when it is perfectly smooth, stir in the salt. Pour the chocolate into the cups to approx 1/4 to 1/2 inch thick and cover the cups with cling film. Freeze for at least 1 hour. When it is frozen, remove from the paper and cut into small cubes and place back into the freezer until you are ready to put it into the cake batter.
Cake: Pre-heat oven to 180C/160C fan-forced/350F. Grease a 9 x 5 loaf tin, dust with flour and tap out the excess.
In a large bowl sift the flour, cocoa powder and salt together.
Cut the butter into pieces and put into a food processor or blender with the sugar and eggs and process for 6 minutes, scraping down the bowl a few times. Mix the butter mixture with the dry ingredients and then mix through the frozen salted chocolate. Scrape the batter into the loaf pan and bake for about 50 minutes or until a skewer inserted into the centre comes out clean (be wary you may have hit some of the salted chocolate and don't confuse that for the cake being under cooked).
Transfer the cake to a rack and cool in the pan for 5 minutes then turn out onto the track and leave to cool right side up.
Sugar Syrup: Bring the water and sugar to boil in a small microwave safe bowl and brush the top and sides of the still hot cake, with the hot syrup (you won't be using it all, you just want to give it a nice even coating all over).
https://mumslounge.com.au/lifestyle/food/salted-chocolate-chocolate-cake/