Barbecued Coriander & Pepper Prawns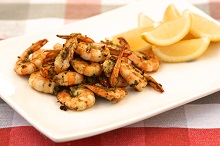 This spicy dish is great as a quick snack, entrée or finger food cooked on an indoor char-grill or in a frying pan, or as part of a larger barbecue spread cooked on an outdoor barbie.
Barbecued Coriander & Pepper Prawns
Ingredients
700g green prawns, peeled and deveined, tails intact
1 lemon, cut into wedges
Coriander & Pepper Paste
1 bunch coriander, leaves, roots and stems all roughly chopped
7 cloves garlic, roughly chopped
1 teaspoon black peppercorns
1 teaspoon white peppercorns
2 teaspoons coriander seeds
2 teaspoons salt flakes
2 tablespoons lemon juice
2 tablespoons extra virgin olive oil
Instructions
Make Coriander & Pepper Paste: place all ingredients in a mortar and use a pestle to pound into a coarse paste.
Coat prawns with the paste and leave to marinate for 20 minutes.
Heat a barbecue or char-grill plate.
Cook the prawns for 1-2 minutes until well coloured, then turn and cook for a further minute or 2 until just opaque all the way through.
Serve immediately with lemon wedges.
https://mumslounge.com.au/lifestyle/food/barbecued-coriander-pepper-prawns/
Alternative Species: Bugs, marron, redclaw, rocklobsters, yabby. © Sydney Fish Market 2013