Whole Rainbow Trout with Orange, Maple Syrup & Macadamia Nuts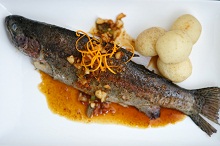 Rainbow trout are one of the most attractive plate-sized fish with their pretty skin and pale pink flesh. Maple syrup may sound like an unusual ingredient but the acid of the oranges and saltiness of the soy balance it well, and the macadamia nuts add a lovely crunch.
Serves 4
4 x 300g rainbow trout, scaled, gilled and gutted
Salt flakes and freshly ground black pepper, to taste
75g butter
⅓ cup chopped macadamia nuts
2 tablespoons chopped spring onions
2 tablespoons maple syrup (see notes)
2 teaspoons soy sauce
4 oranges, zested and juiced
Steamed new potatoes, to serve
Ingredients
Season fish well with salt and pepper. Melt half the butter in a large frying pan over medium heat. Add fish and fry for 4-5 minutes per side, until flesh flakes easily when tested with a fork. Remove and keep warm.
Melt remaining butter in the pan. Add nuts and cook until golden, 1-2 minutes. Add spring onions, maple syrup, soy sauce, orange juice and three-quarters of the orange zest. Bring to the boil, reduce heat and simmer until sauce thickens slightly. Pour over fish, garnish with remaining orange zest and serve with steamed new potatoes.
Notes: It is important to use pure maple syrup for this dish. There are many 'maple-flavoured' syrups on the market, these are largely artificially-flavoured corn syrup. Genuine maple syrup comes from North America and tastes far superior; it is available from delicatessens and specialty food stores.
For More Recipes see Sydney Fish Market  © Sydney Fish Market 2013