Beef and Ale Stew with Cheesy Potato Dumplings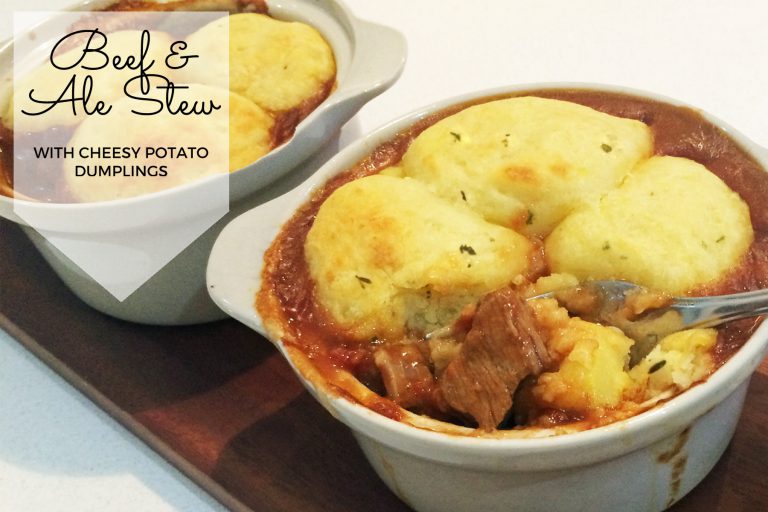 Beef and Ale Stew with Cheesy Potato Dumplings
You can't get a more ideal evening meal for a cold dark evening than beef and ale stew with cheesy potato dumplings. Filling and hearty, this recipe calls for 500ml of your favourite ale, Guinness or stout. And perhaps a little more for the chef while it's cooking!
Beef and Ale Stew with Cheesy Potato Dumplings
Ingredients
3 fresh or dried bay leaves
1kg casserole steak, diced into 2cm cubes
500ml ale, Guinness or stout
1 cup beef stock
4 sticks celery, roughly chopped
4 medium onions, roughly chopped
4 carrots, roughly chopped
olive oil
2 heaped tablespoons plain flour
2 x 400gms tins of diced tomatoes
Salt and pepper to taste
For the Dumplings:
4 large (about 750g) potatoes, peeled and chopped into large chunks
1 ½ cups milk
120g butter
3 cups self-raising flour
1 ½ cups coarsely grated tasty cheese
1 cup finely grated parmesan cheese
4 tablespoons chopped fresh continental parsley
Pinch of salt
Instructions
1. Heat a frying pan with a little olive oil over medium high heat.
2. Toss the diced beef in flour to coat, then quickly fry until browned. Add to slow cooker bowl.
3. Sauté the vegetables in the frying pan for 5 minutes, then add to the slow cooker bowl with the beer, beef stock, bay leaves and tins of tomatoes. Season to taste and allow to cook on high for 3 hours. The beef should be tender.
4. To make potato dumplings, place potatoes in a saucepan and cover with cold water. Bring to the boil over medium-high heat and cook, uncovered, for 10 minutes or until tender. Drain well and return to pan. Add milk and butter and use a potato masher to mash until smooth. Stir in flour, cheddar, parmesan and parsley. Taste and season with salt.
5. Divide stew among 6 ramekins or individual casserole dishes (entirely optional, can serve in one large oven-proof casserole dish if preferred)
6. Use a ¼ cup capacity measuring cup to shape potato mixture into dumplings. Arrange over casserole and cook, uncovered, for a further 20 minutes. Remove from oven and set aside for 5 minutes to cool slightly before serving.
https://mumslounge.com.au/lifestyle/food/beef-ale-stew-cheesy-potato-dumplings/