KFC Releases Flavoured Nail Polish In Attempt To Remain Finger Lickin' Good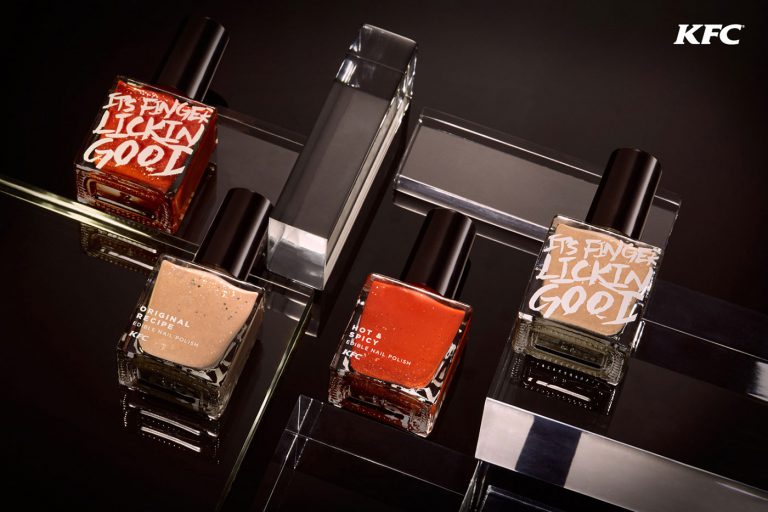 I love a quirky, gimmicky product that promises all sorts of wonderment. You know what I'm talking about. Products that are so kooky they're almost borderline genius. Like the "Booty Pop Undies" that promise to give your butt a lift without having to do one single squat. Genius!
Now I present to you a product which I am sure is going to take the world (or maybe just a suburb) by storm!
FLAVOURED NAILPOLISH! And not just any flavour but KFC flavour. The fried chicken fast food chain made two "edible" fingernail polishes for its fans in Hong Kong. Two shades were created that incorporate the restaurant's top secret blend of 11 herbs and spices: Original Recipe and Hot & Spicy.
Th instructions are super easy. "To use, consumers simply apply and dry like regular nail polish, and then lick — again and again and again," KFC explained.
Ummm…slightly gross and a tad weird. And speaking of weird – the video that KFC has come up with to promote the polish wins my award for biggest WTF footage I've seen all day. There is no mention of chicken or food. Just a girl beatboxing while a guy with nail polish does a weird interpretive dance beside her.
If all of this makes you want to try the finger licking' good polish, I'm afraid you'll have to venture to Hong Kong as it's only there for a limited time.