Beef Stroganoff with Dill Recipe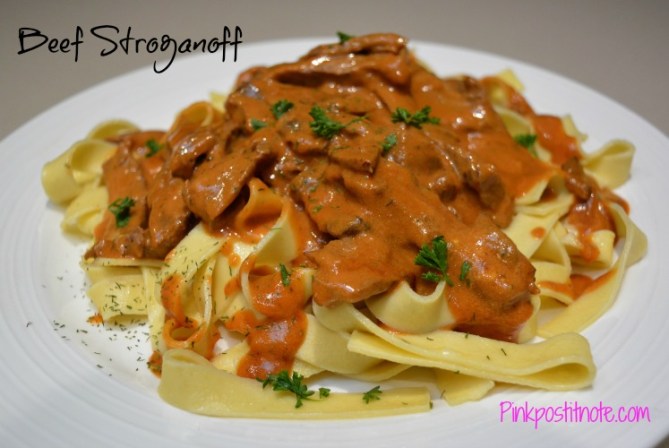 Beef Stroganoff with Dill Recipe
Do you have a GOOD beef stroganoff recipe? Like, I mean – really good? Well this one is better. This one tops ALL other beef stroganoff recipes. There's a couple reasons for this – one is the way the beef is cooked. There is nothing worse than rubbery, hard to chew beef strips. You can buy beef strips already cut up from the butcher and 9 times out of 10 they are going to be tough. You can buy a piece of steak and cut it up yourself and the same thing is likely to happen. This is because when you cook a large quantity of cut up beef at the same time, all the juices are released at once and a lot of water appears in the pan and it ends up getting 'stewed'. You can prevent this by cooking it in a bit of oil in a smoking hot wok in batches, but…… by the time you add the other ingredients and get them cooked as well it can still end up over-cooked. The solution is to cook a whole piece of beef first, and THEN cut it into strips.
Secondly, the sauce has to be kick-ass. And this one is. It's simple but full of flavour from beef stock, tomato sauce, white wine and most important dill weed. I could literally have dill weed on everything it is so delicious and in this dish it is a star.
The only other thing you need to know about this dish is that because you add sour cream at the end, it tends to cool the dish down a little bit so make sure you warm your plates in the oven while you're making this and everyone will be guaranteed a piping hot dish that's perfectly cooked!
To Serve 2 Piggies:
1kg piece of rump steak
2 cloves garlic, finely chopped
1/2 onion, finely diced
1/4 cup sour cream
1 tsp dill weed
1/2 cup white wine
1/4 cup tomato sauce
salt, pepper
1 cup of beef stock
1 tbsp plain flour
2 tbsp butter
1/2 cup sliced mushrooms
1/2 packet of egg noodles
Heat up a large fry pan to smoking hot. Cook the rump, whole for approximately 3-4 minutes each side. Let it rest for 5 minutes then thinly slice into strips, discarding any fat. Don't worry if it's still a bit pink as it will cook more when it goes back in the pan.
Meanwhile, bring a saucepan of water to the boil, add a teaspoon of salt and add egg noodles, stirring occasionally so they don't stick together. Cook according to packet instructions – 6 to 8 minutes.
While noodles are cooking, melt butter in fry pan that you used to cook the steak, add minced garlic and onion until lightly browned.
Take pan off heat and add the flour and mix well, then gradually add the beef stock.
 Add tomato sauce, white wine, mushrooms and salt and pepper. When this has slightly thickened, turn down heat and add the sour cream – keep the heat low or it will curdle. Add the beef strips back to the sauce and warm through.
Beef Stroganoff with Dill Recipe
Ingredients
Olive oil spray
4 large chicken breast fillets
1 small jar of whole roast capsicums or red bell peppers
100gms of baby spinach
12 basil leaves
210gms bocconcini, thickly sliced
Masterfoods Tuscan seasoning
¾ cup grated tasty cheese
Steamed vegies and oven-baked baby potatoes to serve
Instructions
1. Preheat oven to 200°C. Grease a 9x12 casserole dish with olive oil spray.
2. Butterfly chicken breasts by slicing into the long side of the breast, stopping one centimetre from the opposite side. Place opened chicken in casserole dish and sprinkle the insides of the chicken breast with Tuscan seasoning. Stack the roasted capsicum, baby spinach, 3 basil leaves, and bocconcini slices inside the chicken. Fold the top flap of the chicken over and sprinkle with a little more Tuscan seasoning. Repeat this procedure for each chicken breast.
3. Bake chicken for 30-40 minutes (until chicken is no longer pink), then remove from oven. Top chicken with remaining bocconcini slices and sprinkle with grated tasty cheese. Place under the grill until cheese is browned and bubbly, about 5 minutes, then serve with steamed veggies and oven-baked baby potatoes.
https://mumslounge.com.au/lifestyle/food/beef-stroganoff-dill/