Creamy Salmon Fettuccine with Capers, Dill and Cherry Tomatoes Recipe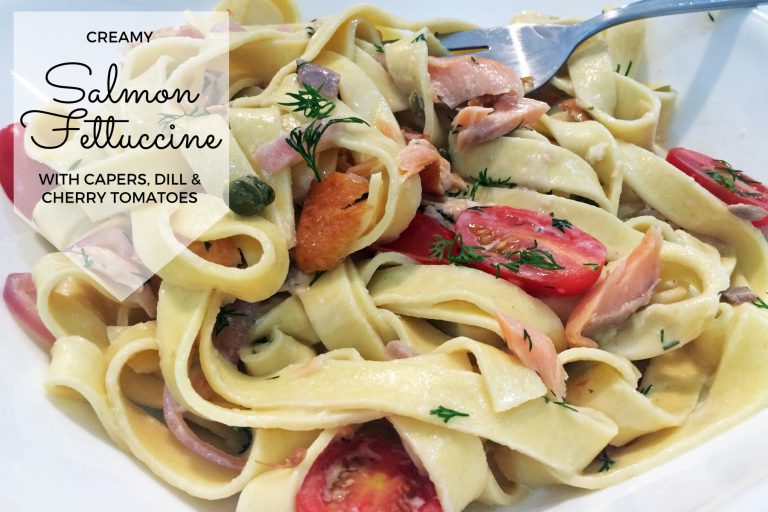 Creamy Salmon Fettuccine with Capers, Dill and Cherry Tomatoes Recipe
This is one of my favourite recipes at the moment, it's just that little bit special and would be PERFECT for a stay at home date night! The creamy salmon fettuccine part is delightful by itself, but adding capers, dill and cherry tomatoes take it to a whole 'nother level!
This recipe calls for hot smoked salmon which can be found in the cold foods section by the thinly sliced smoked salmon. It's a completely different kettle of fish though (damn I love a good food pun) as they are whole smokey pre-cooked salmon fillets. You get two in a packet for about $8 which I think is a good price for meat for a meal that will feed the whole family. And it's oh-so good!
Creamy Salmon Fettuccine with Capers, Dill and Cherry Tomatoes Recipe
Ingredients
185g hot smoked salmon, flaked
500g fettuccini pasta
1 punnet cherry tomatoes, halved
1 tablespoon olive oil
1 medium red onion, halved, thinly sliced
¼ cup drained capers
2 garlic cloves, crushed
½ cup dry white wine
½ cup chicken stock
½ cup thickened cream
2 tablespoons finely chopped fresh dill sprigs
Instructions
1. Cook pasta in a saucepan of boiling, salted water, following packet directions, until just tender. Drain. Return to pan.
2. Meanwhile, heat oil in a large, heavy-based frying pan over medium-high heat. Add onion. Cook, stirring, for 5 to 7 minutes or until onion is golden and softened. Add capers and garlic. Cook for 1 minute or until fragrant.
3. Increase heat to high. Add wine. Cook for 2 minutes or until wine has almost evaporated. Add stock and cream. Reduce heat to medium. Simmer, stirring occasionally, for 4 to 5 minutes or until sauce has thickened.
4. Add cream mixture to pasta. Toss to coat. Add salmon, tomatoes and half the dill. Toss to combine. Serve topped with remaining dill.
https://mumslounge.com.au/lifestyle/food/creamy-salmon-fettuccine-capers-dill-cherry-tomatoes/