Best Ever Pasta Salad Recipe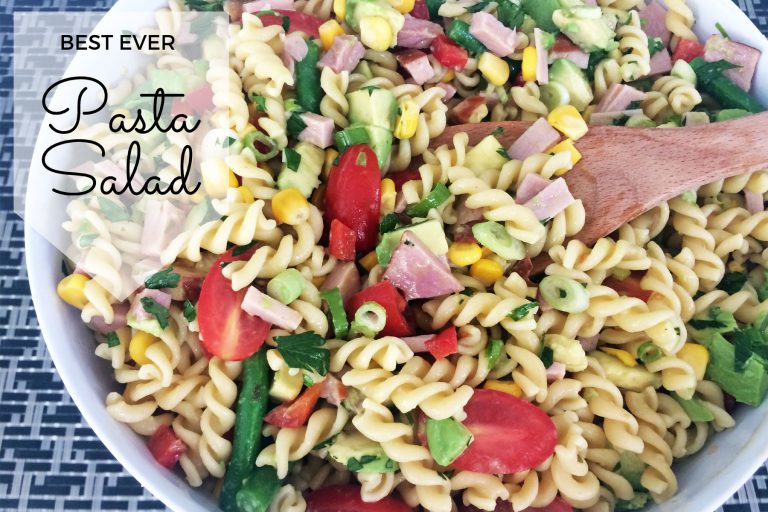 Best Ever Pasta Salad Recipe
Everyone has a favourite 'bring a plate' recipe up their sleeve, and this is mine. My pasta salad is always a hit at family barbecues and entertaining events, and for good reason too – it's delicious!!
Packed with fresh vegetables, pasta salads well known for their versatility, happily sitting alongside barbecued meats and crusty bread on many an Aussie backyard menu.
Here's what you'll need to make it:
Half a packet of curly pasta, French salad dressing, some shallots or green onions, a red capsicum, green beans, avocado, a tin of corn kernels, a punnet of cherry tomatoes, some fresh parsley and some leg ham.
Boil up some salty water and cook your pasta as per packet directions, then remove from the heat and drain. Then rinse under some cool water and allow to drain again.
Chop up all of your veggies and steam or boil the beans for one minute, then refresh under cold water. Stir everything together with the salad dressing and lots of salt and pepper and it's ready to enjoy!
This pasta salad is best made within a few hours of serving as the avocado will start to brown if prepared too early.
Ingredients
250g spiral pasta
1 large tin of corn kernels, drained
250g green beans, trimmed, cut into 3cm pieces
250g leg ham, cut into short strips
1 red capsicum, diced
1 punnet cherry tomatoes, halved
1/4 cup flat-leaf parsley leaves, finely chopped
1 avocado, peeled, stone removed, chopped
1 green onion, finely chopped
1/4 cup French salad dressing
Instructions
Cook pasta in a large saucepan, following packet directions, until just tender. Drain. Rinse under cold water and drain again. Transfer to a large bowl.
Bring a small saucepan of water to the boil and add the beans. Cook for 1 minute or until bright green. Drain and rinse under cold running water to refresh. Drain.
Add corn, beans, ham, capsicum, tomato, shallots and parsley to warm pasta. Toss until well combined. Add avocado, dressing and salt and pepper. Toss gently to combine. Serve.
https://mumslounge.com.au/lifestyle/food/best-ever-pasta-salad-recipe/