Best Ever Swedish Meatballs Recipe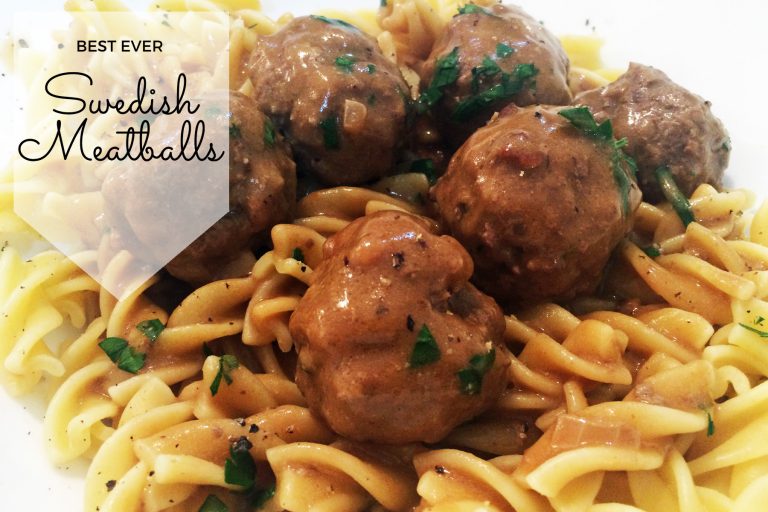 Best Ever Swedish Meatballs Recipe
These delicious savoury balls of mince are positively swimming in their rich creamy gravy. This is without a doubt, the best Swedish meatballs recipe ever.
Here is everything you need to make this amazingly tasty meal:
Breadcrumbs, mince (get a load of the awesome deal I got on that mince! I bought six packets!), an onion, eggs, butter, beef stock, cream, parsley, dijon mustard, worcestershire sauce, olive oil, plain flour, olive oil, garlic powder, dried oregano and salt and pepper. Nothing too scary or out of the ordinary in there!
The first thing you do is to make the meatballs. In a large bowl, combine the mince, breadcrumbs, egg, herbs and seasonings, and mix thoroughly. I like to use kitchen gloves for this messy job. Saves having to take my rings off and getting my nails yucky.
Heat some oil and butter in a frying pan and cook the meatballs in batches until cooked through and browned nicely. Remove them from the pan and cover them with foil. Then add the butter and flour to the pan and stir to combine, forming a roux. Add the beef stock, cream, worcestershire sauce and dijon mustard and stir to make the rich gravy. Return the meatballs to the pan to heat through and you're finished!
Serve with some creamy mashed potato and vegies or spoon on top of al dente pasta for an easy and delicious weekday meal everyone will love.
Best Ever Swedish Meatballs Recipe
Ingredients
1 kg beef mince
½ cup bread crumbs
2 tbsp parsley, chopped
2 tsp dried oregano
1 onion, finely chopped
1 tsp Garlic Powder
¼ tsp Pepper
1 tsp salt
2 eggs
2 tbsp olive oil
140g butter
¾ cup flour
4 cups beef stock
2 cups heavy cream
2 tbsp Worcestershire sauce
2 tsp Dijon mustard
salt and pepper to taste
Instructions
In a medium sized bowl combine mince, breadcrumbs, parsley, oregano, onion, garlic powder, pepper, salt and egg. Mix until combined.
Roll into evenly sized meatballs. In a large frying pan, heat olive oil and 2 tablespoons butter. Add the meatballs and cook in batches, turning continuously until brown on each side and cooked through. Transfer to a plate and cover with foil.
Add remaining butter and flour to the pan and whisk until it turns brown. Slowly stir in beef stock and cream. Add Worcestershire sauce and dijon mustard and bring to a simmer until sauce starts to thicken. Salt and pepper to taste.
Add the meatballs back to the frying pan and simmer for another 1-2 minutes. Serve over pasta or mashed potatoes.
https://mumslounge.com.au/lifestyle/food/best-ever-swedish-meatballs-recipe/