Cajun Fish Taco Recipe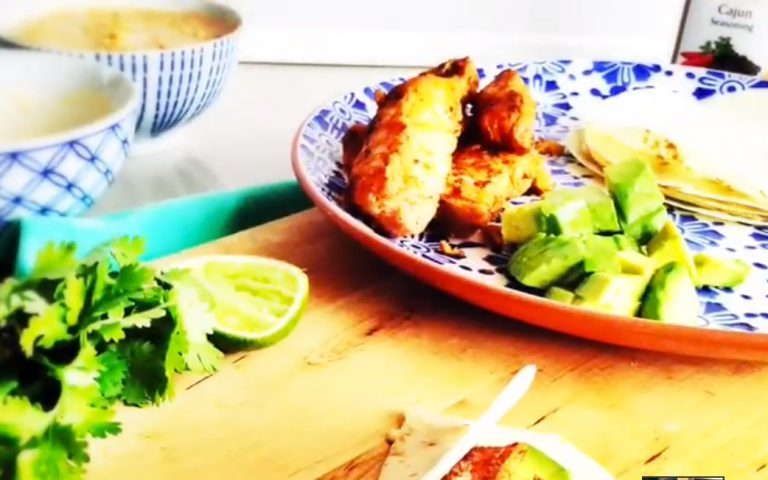 Time: 25 Minutes, Serves : 4
Ingredients
400g firm white fish, no skin (eg Hoki)
2 tsp olive oil
1 Tbsp Cajun Spice
½ Avocado
1 Corn Cob
1 Tomato
1 Lime
Small bunch coriander leaves (washed well)
1Tbsp Plain/Greek Yoghurt
1 Tsp hot sauce
6 Corn Mountain Bread / Thin Wraps
Pinch salt
Instructions
Cut fish into finger sized strips.
In a medium frypan, on medium heat, gently fry 100g of the fish with 1 tsp oil. Once cooked, set aside on a plate as the kids portion – without Cajun spice. This should take 2 minutes.
In a large bowl, combine the remaining fish and Cajun Spice, mix with hands to coat the fish. Gently fry the fish for 2 minutes in 1 tsp olive oil when step 1 is complete.
To make the salsa, add the corn kernels, tomato, lime juice and coriander leaves to a food processer and chop on high for 2 minutes.
In a separate small bowl, combine the yoghurt and hot sauce. Check to see it is hot enough.
Fold the mountain bread in half, place a small bowl over to use as a guide to cut into circles for soft shell tacos.
Dice the avocado and sprinkle with salt
To serve, layer; wrap, salsa, avocado, fish and hot sauce. (omit hot sauce and Cajun spice for the kids).
https://mumslounge.com.au/lifestyle/food/cajun-fish-taco-recipe/
TIP : Entertain in style at your next BBQ! Prepare ahead and cook the fish on the BBQ. Let guests serve themselves as a stand up starter. Serve with Mexican beer and lime wedges.

Amy McEntee is a mum of two and the author of Sydney based food blog, Eat Raise Love. A lover of all things food (& wine!), Amy is often found cooking for playdates and gifting meals to others. Amy cooks from the heart and shares her easy, healthy recipes and meal ideas for busy families.