WATCH: Spaghetti Carbonara Recipe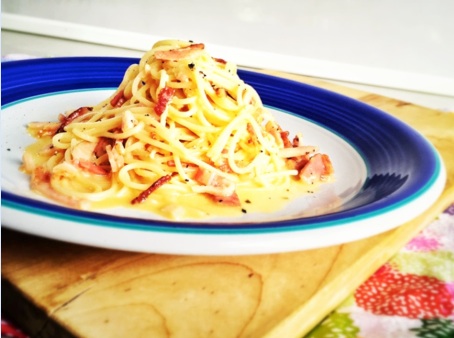 SPAGHETTI CARBONARA
Time : 12 minutes, Serves 4
WATCH: Spaghetti Carbonara Recipe
Ingredients
200g thin spaghetti
4 eggs
4 long rashes bacon, rind removed
½ cup grated cheese
Salt
Pepper
Instructions
Using a large lidded saucepan, ¾ fill with water + a large pinch of salt. Fasten lid and boil on high heat.
Heat a medium sized frypan to medium heat. Thinly slice the bacon, add to the frypan to gently fry for 10 minutes.
Meanwhile cook pasta to packet directions in the boiling water.
In a small bowl, lightly whisk the 4 eggs, combine with pepper and grated cheese.
Once pasta is cooked, drain into a large bowl with a cup of the cooking water. Combine with the bacon, eggs and cheese. Mix well with tongs. The egg and cheese combined with the warm pasta create a silky creamy sauce.
https://mumslounge.com.au/lifestyle/food/watch-spaghetti-carbonara-recipe/
TIP : Eggs may scramble in the sauce if the pasta is returned to the hot saucepan in step 5 instead of a cool bowl.

Amy McEntee is a mum of two and the author of Sydney based food blog, Eat Raise Love. A lover of all things food (& wine!), Amy is often found cooking for playdates and gifting meals to others. Amy cooks from the heart and shares her easy, healthy recipes and meal ideas for busy families.