WATCH: Salmon and Pea Risotto Recipe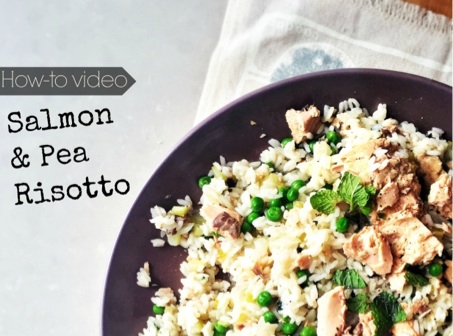 SALMON & PEA RISOTTO
Time: 20 Minutes, Serves 4
WATCH: Salmon and Pea Risotto Recipe
Ingredients
1 Tbsp olive oil
1 Brown Onion
3 Celery Sticks
2 cups Aborio Rice
1 cup white wine
415g Can Pink Salmon (including the juices)
2L Chicken Stock
1 cup Peas
½ bunch mint, leaves only
Salt
Pepper
Instructions
In a large frypan, heat the oil to medium. Heat chicken stock in a medium saucepan to medium heat.
Dice onion and celery, gently fry for 2 minutes.
Add rice to frypan, stirring to combine with onion and celery. Allow to cook gently 2 minutes, then add white wine and cook further 2 minutes.
Separate the salmon from the juices, add the juice to the frypan and any large bones to the stock. In a small bowl, break up the remaining salmon with hands to incorporate the small bones and skin (all edible)
Shake the risotto, if it wobbles keep cooking. If it doesn't wobble, add 2 ladles of stock. Repeat every 2 minutes for 12 minutes. Test rice to see it is almost cooked.
Add peas, half the salmon and chopped mint to the risotto. Combine with a little extra stock, salt and pepper.
Serve topped with remaining salmon and a little extra fresh mint.
https://mumslounge.com.au/lifestyle/food/watch-salmon-and-pea-risotto-recipe/
TIP : Skin and bones in the salmon are all edible. Although they may not look great in the can, they disintegrate into cooking and are a great source of Omega 3.
Amy McEntee is a mum of two and the author of Sydney based food blog, Eat Raise Love. A lover of all things food (& wine!), Amy is often found cooking for playdates and gifting meals to others. Amy cooks from the heart and shares her easy, healthy recipes and meal ideas for busy families.