Cajun Potatoes with Buttermilk Dressing Recipe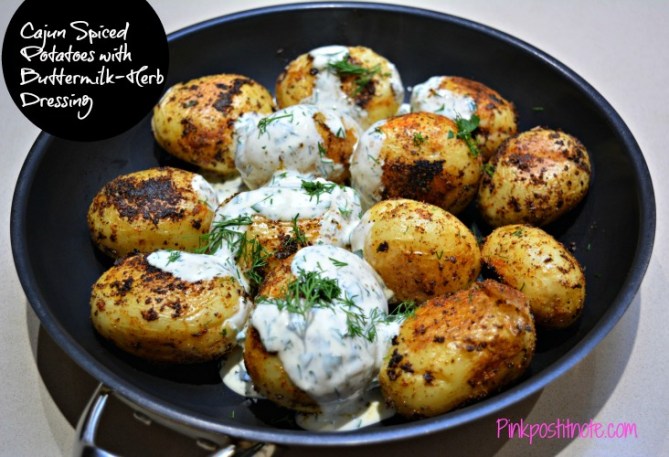 Cajun Potatoes with Buttermilk Dressing Recipe
I'm pretty sure that this dish would be equally delicious served cold or hot. I can't tell you with certainty because although I had planned on having leftovers (cause I made plenty) there were none. This was devoured. Like, literally – de-voured. I keep thinking there can't possibly be another way to cook potatoes and then I find one and I'm so, so glad I found this one because it was SOOOOO good. But better than that, it's incredibly easy. The baby potatoes are boiled whole, in their skins until tender then crisped up in a pan with a drizzle of oil before tossing in some spices and then being drizzled with a fabulous buttermilk dressing with fresh herbs. Make way more than you think you will need and then let me know how the leftovers come up cause we haven't been able to do it yet! Seriously you will still be imagining the taste of this dish in your mouth the next day at work. Hours and hours after you ate it. Unless of course you are smart and make EXTRA and have some for lunch as well! Make your workmates jealous!
Cajun Potatoes with Buttermilk Dressing Recipe
Ingredients
2/3 cups sour cream
1/3 cup buttermilk
2 tbsp white or apple cider vinegar
1 medium clove garlic, minced
1 bunch dill, chopped
1 bunch chives, chopped
1/3 cup parsley, chopped
salt and freshly ground black pepper
800g (1 1/2 lbs) baby potatoes
1 1/2 tsp smoked paprika
1 tsp ground cumin
1 tsp garlic powder
1 tsp onion powder
1 tsp dried oregano
1/2 tsp brown sugar
pinch cayenne
1 tbsp unsalted butter
2 tbsp vegetable oil
Instructions
Boil the potatoes in salted water until fork-tender. Drain, then put the colander back over the warm pot on the stove to dry.
Meanwhile, in a jug mix together sour cream, buttermilk, vinegar, garlic and 2/3's of the dill, chives and parsley. Season with salt and pepper. Refrigerate until ready to use.
In a small bowl, mix the paprika, cumin, garlic powder, onion powder, oregano, brown sugar, cayenne and salt.
Heat butter and oil in a medium heavy-bottomed fry pan over medium-high heat until foaming. Add potatoes and cook, stirring occasionally until the skins are lightly browned and crisp, about 4 minutes. Sprinkle potatoes with the spice mixture and continue to cook, stirring, until the spices begin to blacken, about 30-40 seconds. Remove from heat. Season with salt, if necessary.
Garnish with the remaining chopped herbs and serve warm with the buttermilk-herb dressing.
https://mumslounge.com.au/lifestyle/food/cajun-potatoes-buttermilk-dressing/