Chicken and Baby Spinach Potato Bake Recipe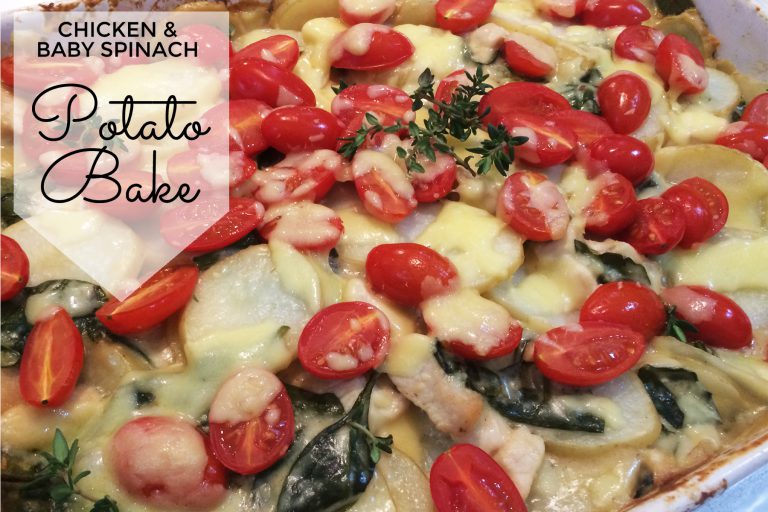 Chicken and Baby Spinach Potato Bake Recipe
Fancy jazzing up your standard potato bake? Or perhaps you're after a fairly easy and super tasty traybake to feed your whole family with little fuss? This chicken and baby spinach potato bake recipe might be one for you to try!
Combining all our favourite comfort foods together in one casserole dish is one of the best things about this recipe. Creamy cheesy garlic sauce, sliced potatoes, chunks of chicken, baby spinach and cherry tomatoes. Seriously — yum!
Here's what you'll need to make this family favourite.
Two chicken breast fillets, a punnet of cherry tomatoes, about a kilo of potatoes, some baby spinach, parmesan cheese, garlic, an onion, olive oil, fresh thyme, a lemon, plain flour, butter and milk.
Cut the chicken into cubes and cook in a frying pan until cooked through, then add the onion and cook until soft. Transfer to a big bowl.
Then add the butter to the frying pan and once melted, add the crushed garlic. Now add some flour and stir until it thickens. Slowly add the milk while stirring until it is well combined, then stir for a couple of minutes until it boils and thickens. Now add some lemon zest, fresh thyme and parmesan and stir well. Add the sauce to the bowl with the chicken.
Slice the potatoes thinly and add them to the bowl as well, along with the baby spinach. Stir everything to combine (this is a bit tricky!) and then transfer to an ovenproof casserole dish, cover with foil and bake for an hour.
Take the potato bake out of the oven and top with halved cherry tomatoes and more parmesan cheese, then bake for another ten minutes.
Allow to stand for five minutes, then serve with plenty of fresh crusty bread and a side salad for a full meal.
Chicken and Baby Spinach Potato Bake Recipe
Ingredients
2 tsp olive oil
2 chicken breast fillets, diced
1 onion, thinly sliced
40g butter
3 cloves garlic, crushed
2 tbsp plain flour
2 ½ cups skim milk
½ cup freshly grated parmesan, plus 1/3 cup extra
1 tbsp chopped fresh thyme leaves
1 tsp finely grated lemon zest
750g potatoes, thinly sliced
150g baby spinach
250g cherry tomatoes, halved
Instructions
Preheat oven to 180 degrees and grease a 2L/8 cup capacity ovenproof dish. Heat oil in a frying pan over moderate heat and cook chicken breast pieces for five minutes or until almost cooked through. Add the onion to the pan and cook for three minutes or until soft. Place in a large bowl.
Melt butter in same pan and add garlic, cooking and stirring for 30 seconds or until fragrant. Add flour and stir until thick. Gradually stir in milk until combined and smooth. Continue stirring until it boils and thickens. Remove from heat and add parmesan, thyme and zest, stirring to combine. Transfer to bowl with chicken and onions. Add potato and spinach and mix well. Transfer to prepared dish and level surface. Cover with lightly greased foil and bake for 1 hour.
Remove foil, top with tomatoes and extra parmesan. Bake for another 10 minutes or until tomato is tender. Stand for 5 minutes before serving.
https://mumslounge.com.au/lifestyle/food/chicken-baby-spinach-potato-bake-recipe/