Chicken Tender Salad Wraps Recipe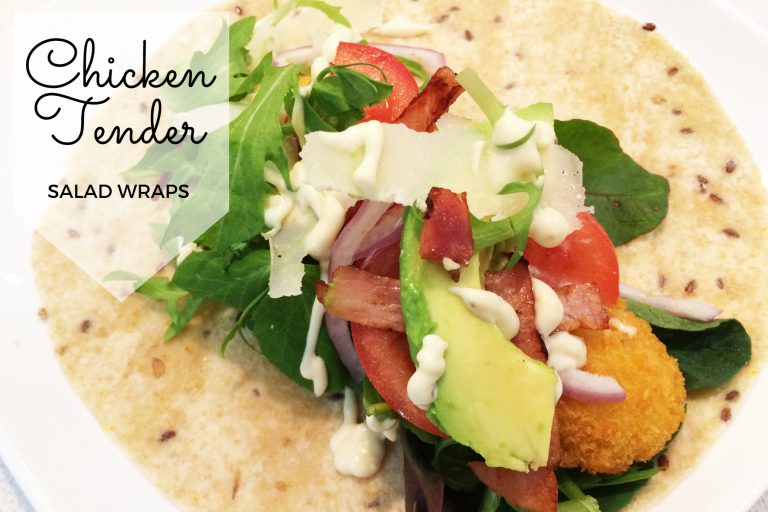 Chicken Tender Salad Wraps Recipe
Without a doubt, chicken tender salad wraps are one of my family's absolute favourite meals. And it's so simple, I can't believe I didn't think of it myself! I was flicking through a foodie mag about fifteen years ago and saw a similar recipe and nearly slapped myself up the side of the head. Of course!
I've been making it ever since, switching it up slightly to make use of ingredients we have on hand or to try different flavours. You could think of them like KFC wraps and make caesar, sweet chilli or smoky barbecue versions!
But here is the basic family favourite recipe right here.
You'll need enough chicken tenders and wraps to go round. You generally get about 4 chicken tenders in a box so you might need to buy two. You can get them for about $4 a box. One chicken tender per wrap.
Also needed – salad things! Grab a bag of lettuce leaves (so cheap), some tomatoes, an avocado and half a red onion. The kids like grated tasty cheese but I prefer to hit a block of parmesan with a veggie peeler. You'll also need some mayo or aioli, whatever you prefer.
Don't forget bacon! Actually, that's a good tip for life in general, don't ever forget about bacon. It makes everything better.
Look at how pretty it all looks plated up and ready for everyone to make their own. Mr 7 likes his to have just chicken, grated cheese and tomato sauce. Fine with me, buddy. More avocado and bacon for the rest of us!
So good. My husband ate three of them! We'll be making this meal forever. So quick, simple, cheap and tasty!
Chicken Tender Salad Wraps
Ingredients
1 box of frozen crumbed chicken tenders
8 large white or multigrain wraps
Mixed lettuce leaves
2 small tomatoes, cut into wedges
3 rashers of bacon, cut into thin strips
1 avocado, sliced
½ red onion, thinly sliced
Parmesan cheese or grated tasty cheese
Aioli or plain mayonnaise
Instructions
Cook chicken tenders on a baking paper lined oven tray as per packet directions.
Meanwhile, cook the bacon strips in a frying pan until crisp and golden. Prepare the rest of the salad ingredients.
Place a chicken tender onto each wrap and add your salad ingredients as desired. Use a vegetable peeler to slice parmesan cheese into slithers or use grated cheese, whichever you prefer. Top with your favourite mayo, roll up and enjoy.
https://mumslounge.com.au/lifestyle/food/chicken-tender-salad-wraps-recipe/