Chocolate Caramel Slice Recipe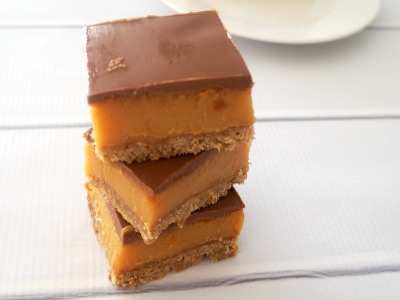 Slice recipes don't get much more decadent (or delicious!) than this Chocolate Caramel Slice recipe.  The combination of a crisp biscuit base, a rich and creamy caramel centre topped with yummy milk chocolate makes this slice almost impossible to resist.
Although this slice looks impressive, it's actually very easy to make and the hardest part is waiting for it to cool and set in the fridge.
Chocolate Caramel Slice Recipe
Ingredients
1 cup (150g) of plain flour
½ cup of coconut
125g of butter
⅓ cup (70g) of brown sugar
Filling
½ cup (120g) of golden syrup
125g of butter
2 x 400g cans of condensed milk
Topping
200g of milk chocolate
½ teaspoon of vegetable oil
Instructions
Preheat oven to 180 degrees and line a 18 x 28cm slice tin with baking paper - make sure you leave plenty of paper hanging over the edges to help you remove the slice from the tin later.
Melt the butter and place it along with the flour, coconut and sugar into a large bowl and mix with a metal spoon to combine.
Pour the mixture into your prepared slice tin and flatten the surface with a spoon. Place the tray into the oven and bake for 16 - 18 minutes or until it's golden brown.
To make the caramel filling, place the butter, condensed milk and golden syrup into a small saucepan and stir oven a low heat for approximately 8 minutes or until the mixture is thick.
Pour the caramel over the base once it has cooked and put it back in the oven to bake for a further 20 minutes or until the caramel is golden.
Remove the slice from the oven and allow it to cool for 10 minutes before place it in the fridge to chill.
Once the slice has chilled, place the milk chocolate and vegetable oil into a microwave safe bowl and cook for 30 second spurts until it's melted. Pour over the top of the slice and return to the fridge for 1 hour or until set.
Cut into small squares to serve.
https://mumslounge.com.au/lifestyle/food/chocolate-caramel-slice-recipe/
If you want to make your slice just that little bit more special, you could substitute the milk chocolate for dark chocolate when you are making the topping.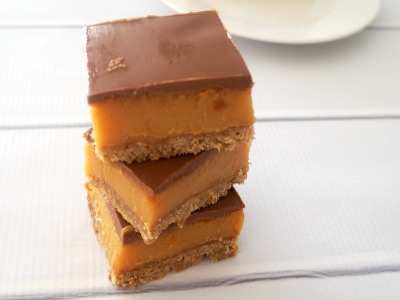 This slice never lasts for long whenever I make it, do you know someone who would love to have a piece or two of this slice?