Jam and Coconut Slice Recipe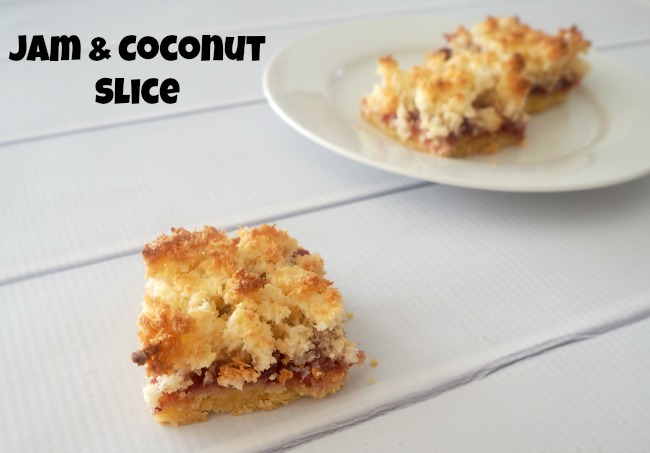 If I had to choose one slice recipe which reminded me of my childhood without a doubt I would have to choose this Jam and Coconut Slice every single time.
It is such a classic recipe which I'm sure many of us remember enjoying as kids and there is nothing I love more than making it now with my own boys.
Jam and Coconut Slice Recipe
Ingredients
125g of butter
80g of caster sugar
150g of plain flour
1 teaspoon of baking powder
1 egg yolk
200g of raspberry jam
For the topping:
115g of caster sugar
1 egg
85g of coconut
Instructions
Preheat oven to 180 degrees and line a 18 x 28cm slice tin with baking paper. Make sure you leave plenty of paper hanging over the edges to help you remove the cooked slice from the tin.
Place the butter, sugar, flour and baking powder into a food process and mix until all the ingredients have just combined before adding the egg yolk and continuing to process until a soft dough forms.
Spoon the dough into the prepared slice tray and smooth the surface - don't worry it will feel like you don't have enough mixture but if you use two spoons to spread it, you will cover the surface. Place the slice tray into the preheated oven and back for 12 - 15minutes or until the base has turned golden brown. Remove from the oven and allow the slice to cool for five minutes.
Once the slice base has slightly cooled, add the raspberry jam and make the topping.
To make the topping, lightly beat the egg before adding it to a bowl with the sugar and coconut. Mix the ingredients together well and sprinkle over the jam.
Place the slice tray back into the oven to bake for 25 minutes or until the top turns golden brown.
Allow the slice to cool in the tin before carefully transferring it to your bench top to cut into pieces.
https://mumslounge.com.au/lifestyle/food/jam-and-coconut-slice-recipe/
For something a little different, you could substitute the raspberry jam for Apricot, Marmalade or Strawberry Jam.
I think it's pretty perfect with the raspberry jam filling though!
What's your favourite childhood slice recipe?
Do you know someone who would love this Jam and Coconut Slice?