Low Fat Christmas Ice Cream Pudding Recipe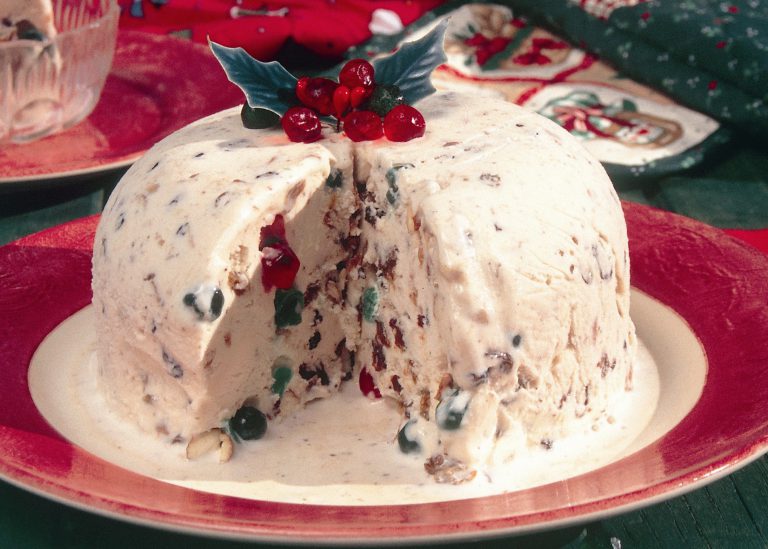 Christmas is traditionally a time of over-indulgence – but thankfully treating yourself needn't mean stacking on the pounds this festive season.  This delicious Christmas ice cream pudding combines low fat ice cream with mixed fruit, almonds, mixed spice and a splash of brandy! This recipe serves 16 – so its the perfect dessert to share with your family and friends this festive season – especially on a hot Christmas day!
Better still it can be whipped up with minimum fuss the day before you need it (just ensure enough time for it to set in the freezer!)
Once you've made it once we think it'll become a go-to recipe for special occasions this Summer  Get creative and try different flavour combinations, different nuts and fruit, even different liquors.  Of course, you can also leave out the liquor altogether for a family friendly option.
The possibilities are endless!
Serves 16
Christmas Ice Cream Pudding Recipe
Low Fat Christmas Ice Cream Pudding Recipe
Ingredients
2 cups dried mixed fruit
60ml brandy
¾ cup (100g) toasted almonds chopped
1½ teaspoons mixed spice
2 litres low-fat ice-cream
Instructions
Place fruit in large mixing bowl, pour brandy over fruit, leave for a few hours. Add almonds and mixed spice. Fold together with softened ice-cream. Line a 6 to 8 cup pudding basin with plastic wrap, spoon in mixture. Cover with plastic wrap and freeze overnight.
https://mumslounge.com.au/lifestyle/food/christmas-ice-cream-pudding-recipe/
Variations: Replace almonds with preferred nuts e.g. pecans, walnuts, macadamias or replace brandy with rum or with any liqueur you like e.g. Cointreau, Grand Marnier, Malibu or Drambuie.
You can find this recipe in Symply Too Good To Be True Book 1 By Annette Sym
Nutritional Information
Per Serve
| | |
| --- | --- |
| FAT                TOTAL | 5.7g |
|                        SATURATED | 1.6g |
| FIBRE | 1.8g |
| PROTEIN | 4.7g |
| Carbs | 26.9g |
| Sugars | 26.4g |
| Sodium | 62mg |
| Kilojoules | 756 (cals 180) |
| GI Rating | Low |
Dietitian's Tip: Ideal for Christmas lunch or those very special occasions.