Chicken Stuffing Recipe – Chicken with Walnut Cranberry Stuffing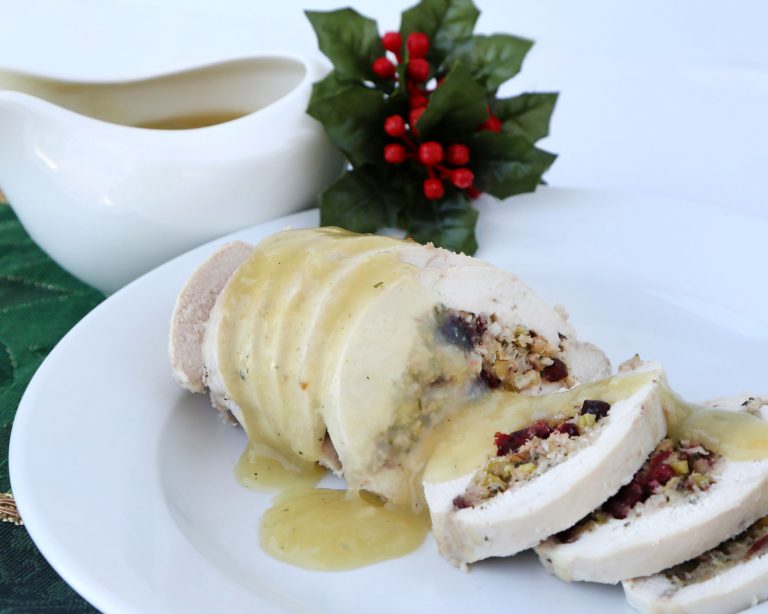 Chicken Stuffing Recipe: Chicken with Walnut Cranberry Stuffing
SERVES: 6 
Chicken Stuffing Recipe – Chicken with Walnut Cranberry Stuffing
Ingredients
STUFFING:
10g pkt fresh sage leaves
1 cup Panko breadcrumbs
1 teaspoon crushed garlic (in jar)
½ cup onion finely diced
½ cup celery finely diced
⅓ cup dried cranberries (Craisins)
1 teaspoon salt-reduced chicken stock powder
¼ cup walnuts chopped
CHICKEN:
2 x 500g double skinless chicken breasts
wooden toothpicks
1 tablespoon plain flour
1 oven bag
cooking spray
GRAVY (optional):
1½ cups water
2 teaspoons salt-reduced chicken stock powder
2½ tablespoons cornflour
juice from chicken bag
Preheat oven 180ºC fan forced.
Instructions
Stuffing: Remove stalks from sage leaves then finely chop. Place all stuffing ingredients into a medium size mixing bowl and combine well. Leave to one side.
Chicken: Tidy chicken edges and remove fillets. Using a meat mallet or rolling pin, flatten chicken to an even thickness making sure you keep each double breast together.
Place half the stuffing on the inside part of one double breast, spread evenly over chicken. Lift other half of breast over top of filling to encase in the chicken.
Use toothpicks to secure edges, so no filling will escape. Repeat this with other double breast.
Place flour into oven bag and shake. Spray tops of chicken with cooking spray then place into oven bag and tie opening. Prick a few holes into top of bag then place onto a flat baking tray. Bake 35-40 minutes or until chicken is cooked through.
Remove from oven and leave chicken to rest in bag for 10 minutes.
Lift chicken out of bag and strain residue liquid from bag into a small saucepan to make gravy.
Remove toothpicks then carefully slice chicken with a sharp knife. Serve hot or cold.
Gravy: Place all ingredients into a small saucepan with chicken juice. Using a whisk, ring to boil and serve on the side with chicken.
Suitable to be frozen.
https://mumslounge.com.au/lifestyle/food/chicken-stuffing-recipe-chicken-with-walnut-cranberry-stuffing/
VARIATION:
Replace chicken breast with turkey breast.
NUTRITIONAL INFORMATION

PER SERVE
FAT   TOTAL
7.3g
        SATURATED
1.2g
FIBRE
1.9g
PROTEIN
34.5g
CARBS
30.4g
SUGAR
18.2g
SODIUM
449mg
KILOJOULES
1355 (cals 324)
GI RATING
HIGH
You can Find this recipe in SYMPLY TOO GOOD TO BE TRUE BOOK 7