Low GI Fruit Balls Recipe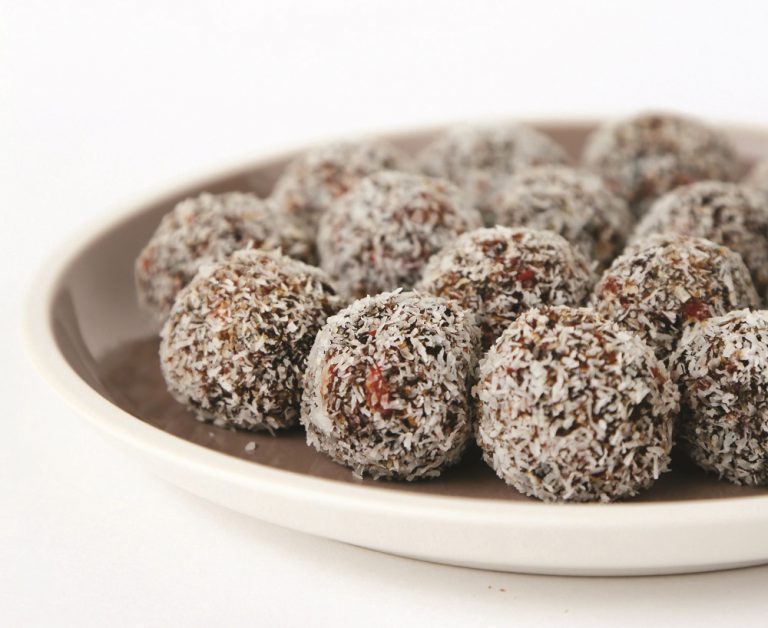 If you are looking for a healthy snack idea perfect for adding to your child's lunchbox, or keeping in the pantry for when that 3pm slump hits – this low GI fruit balls recipe first the bill.  This recipe makes 40 balls – enough to get the whole family through the week!
MAKES: 40 balls
Fruit Balls Recipe (using Dried Fruit)
Low GI Fruit Balls Recipe
Ingredients
¾ cup sultanas
¾ cup dried dates
¾ cup prunes
¾ cup dried apricots
¾ cup dried goji berries
½ cup dried cranberries (craisins)
1 tablespoon chia seeds
¼ cup fresh orange juice
½ cup desiccated coconut
Instructions
Roughly chop all fruit then place in a strong food processor with all remaining ingredients except coconut. Blend until combined.
Measure each ball to weigh about 20g per ball (about a dessertspoon) and roll into a round shape.
Place coconut into a medium size mixing bowl then coat each ball in coconut. Repeat this until you have 40 balls. Best kept refrigerated.
https://mumslounge.com.au/lifestyle/food/fruit-balls-recipe/
Variations:
FRUIT AND NUT BALLS
⅓ cup sunflower seeds
⅓ cup pepitas (pumpkin seeds)
½ cup raw almonds
Add to food processor when pulsing fruit, or replace any of the dried fruit with dried figs, dried apples, currants or raisins, but use the same quantities of dried fruit as listed in the ingredients.
Suitable to be frozen.
DIETITIAN'S TIP: This healthy dried fruit snack is high in B vitamins and minerals. If you would like to have two balls as a snack, select the plain fruit option as it is lower in calories.
NUTRITIONAL INFORMATION
PER BALL
FRUIT
FRUIT & NUT
FAT   TOTAL
0.7g
3.0g
         SATURATED
0.6g
0.8g
FIBRE
1.5g
2.0g
PROTEIN
0.7g
1.7g
CARBS
9.0g
9.3g
SUGAR
8.0g
8.2g
SODIUM
11mg
11mg
KILOJOULES
189
(cals 45)
295
(cals 71)
GI RATING
LOW
LOW
You can find this recipe and many more in SYMPLY TOO GOOD TO BE TRUE BOOK 7