Seared Tuna with Salsa Verde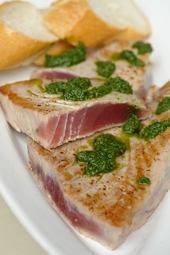 Serves 4
This vibrant green sauce will keep covered in the fridge for a week; serve drizzled over any fish or meat or as a dipping sauce for cold prawns.
Seared Tuna with Salsa Verde
Ingredients
4 x 200g sashimi-grade tuna steaks (see notes)
Salt flakes and freshly ground black pepper, to taste
A little extra virgin olive oil
Crusty bread, to serve
Salsa Verde
2 firmly-packed cups flat-leaf parsley leaves
4 cloves garlic, chopped
2 tablespoons capers in brine, rinsed
7 anchovy fillets (see notes)
1/2 cup extra virgin olive oil
Instructions
Make Salsa Verde: combine all ingredients in a food processor or blender and process until smooth.
Season fish well with salt and pepper. Heat a frying pan until very hot, add a little oil and cook fish on 1 side for about 30 seconds, just until well-coloured, then turn and cook the other side for another 30 seconds, just long enough to colour.
Remove fish from heat and leave to rest for a couple of minutes before drizzling with Salsa Verde and serving with crusty bread.
https://mumslounge.com.au/lifestyle/food/seared-tuna-with-salsa-verde/
Notes: Remove the fish from the fridge 20-30 minutes before you cook it, to allow it to come to room temperature, this is particularly important if it is being served rare in the centre. Sashimi-grade fish is normally sold trimmed, if it is not, trim off any skin and dark muscle before cooking. If available, use Ortiz brand anchovy fillets as they have a much better flavour and are less salty, 1 small can (47.5g) is the right amount.
Alternative Species: Salmon, swordfish, yellowtail kingfish.
© Sydney Fish Market 2013