Christmas Toffee Treats Recipe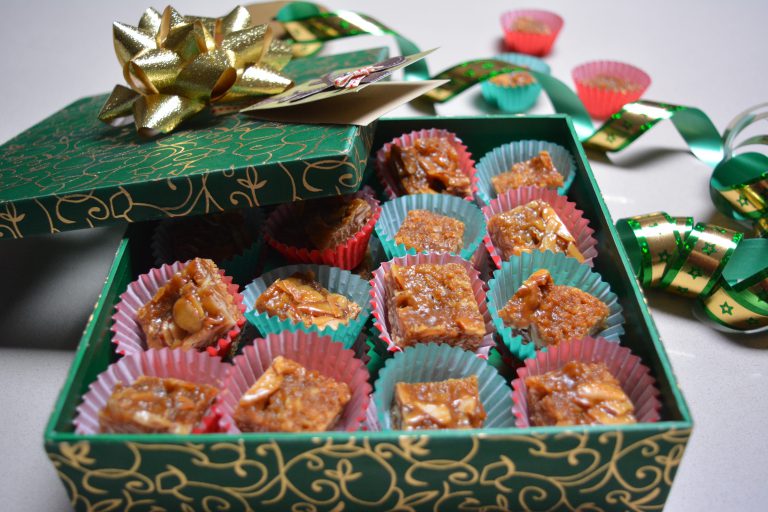 Every year my kids beg me to make my mini Pecan tarts and I do and they are delicious and while the recipe itself is easy there's a fair bit of labour pushing the dough into the mini muffin trays (I usually do this mind numbing job while watching TV). They have a delicious crunchy crust and the inside is this gooey brown sugar/caramel/pecan filling.
Well these Toffee Treats are so close to the tarts it's not funny but what a difference in time and effort. With this recipe the crust is baked for 10 minutes in a tray, then the gooey topping is poured on top and baked. All you have to do then is set it and slice it. Job done.
I bought some miniature paper cases in red and green and cut them up in bite-size pieces, popped them into a Christmas box, tied it with ribbon and gave it to our neighbours as a treat. Don't get me wrong, they didn't get all of them. They especially didn't get the caramelised edges that I trimmed off in an effort to be neat.
Super easy to make, a quick mix of butter, flour and oats for a 10 minute bake. A quick mix and melt of butter, glucose syrup and brown sugar with some almonds and vanilla. Pour it on top, bake, set and cut. Make sure you cool these to room temperature, then pop the tray into the fridge to set completely before cutting into any size or shape you like. Store in refrigerator for up to 4 days.
Christmas Toffee Treats Recipe
Ingredients
Base
1 cup plain flour
1 cup oats
1 cup packed brown sugar
1 tsp baking soda
1/2 cup (125g) butter, softened
Topping
1/2 cup glucose or corn syrup
1/3 cup packed brown sugar
1/4 cup (62g) butter
1/4 cup thickened cream
1 1/2 cups sliced almonds
1 1/2 tsp vanilla
Instructions
Pre-heat oven to 180C/160C fan-forced/350F. Grease and line a 13 x 9 inch (lasagne tray size) with non-stick baking paper coming up the edges.
Base: Beat the butter and brown sugar together until light and fluffy. Mix in the other ingredients and pat down into the base of the tray. Bake for 10 minutes and set aside.
Topping: While the base is cooking, combine the glucose or corn syrup, brown sugar, butter and cream together in a medium size saucepan over medium heat stirring until mixture comes to the boil. Remove from heat and stir in vanilla and almonds. Pour over the base and return to oven for 15-20 minutes or until golden.
Cool in tray and then refrigerate until ready to cut into shapes and serve. Store in refrigerator.
https://mumslounge.com.au/lifestyle/food/christmas-toffee-treats-recipe/
Carolyn started her blog Pinkpostitnote.com just over a year ago as a way to deal with her obsession of trying new recipes from the copious collection of cookbooks that she owns (and continues to buy). She is particularly fond of "man" food, both cooking it and eating it. She will happily elbow people out of the road at the sight, sound and smell of a pulled pork burger. When she's not lying awake at 5am wondering if she should buy chooks and a cow to deal with the constant need for eggs and butter, she's dealing with all the paperwork associated with owning a bunch of tip trucks and her favorite time of the day is wine five o-clock.