Coconut and Golden Syrup Cookies Recipe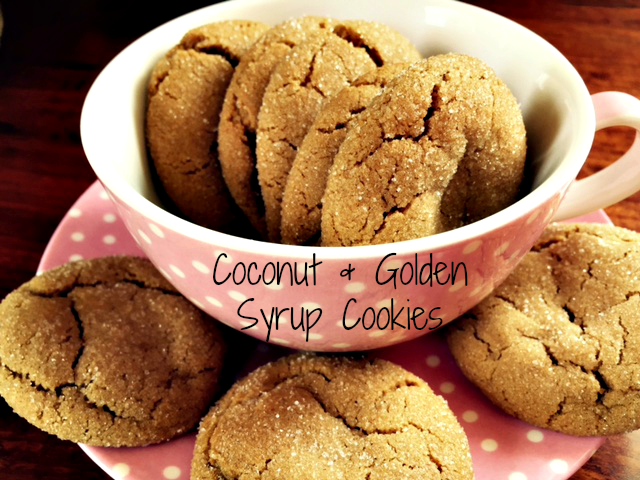 Coconut and Golden Syrup Cookies Recipe
I have a friend. Let's call her Nicole, because that's her name. Nicole hates to cook. But she made these cookies because she saw them on my Facebook page and she talked herself into going into the kitchen and whipping these up and she was so excited with herself because they worked and they were easy and they were delicious. Yeaa! I was pretty impressed with her too. So if Nicole can do them. ANYONE can.
Did you know that coconut oil is not (necessarily) found with the rest of the cooking oils? And did you know that it's solid? I didn't know either of those things but I did find it in the health food aisle next to all the quinoa and flaxseed. My daughter uses coconut oil in her hair and on her face and swears by it but so far it's still just sitting in my pantry! And that has nothing to do with these cookies but just thought I'd throw that in there. Anyway, this is a recipe adapted from the lovely Donna Hay and they are awesome.
Coconut and Golden Syrup Cookies Recipe
Ingredients
1/2 cup coconut oil, melted (30 seconds in the microwave)
3/4 cup brown sugar
1/3 cup golden syrup
2 tsp vanilla extract
1 egg
2 cups plain flour
2 tsp mixed spice
1 tsp bicarbonate of soda (baking soda)
1/4 cup white sugar (for rolling cookie dough in)
Instructions
Preheat oven to 180C (160C fan-forced, 350F). Place the oil, brown sugar, golden syrup, vanilla and egg in the bowl of an electric mixer and beat for 4-5 minutes or until thickened and pale. Add the flour, mixed spice and bicarbonate of soda and beat until just combined. Refrigerate the dough for 20-30 minutes or until firm.
Roll tablespoons of the mixture into balls, then roll in the white sugar and place on baking trays lined with non-stick baking paper, allowing room to spread. Bake for 10-12 minutes or until golden brown and slightly soft in the centre. Allow to cool slightly on trays before transferring to wire racks to cool completely.
https://mumslounge.com.au/lifestyle/food/coconut-and-golden-syrup-cookies-recipe/
Carolyn started her blog Pinkpostitnote.com just over a year ago as a way to deal with her obsession of trying new recipes from the copious collection of cookbooks that she owns (and continues to buy). She is particularly fond of "man" food, both cooking it and eating it. She will happily elbow people out of the road at the sight, sound and smell of a pulled pork burger. When she's not lying awake at 5am wondering if she should buy chooks and a cow to deal with the constant need for eggs and butter, she's dealing with all the paperwork associated with owning a bunch of tip trucks and her favorite time of the day is wine five o-clock.