Cookie Monster Ice Cream Recipe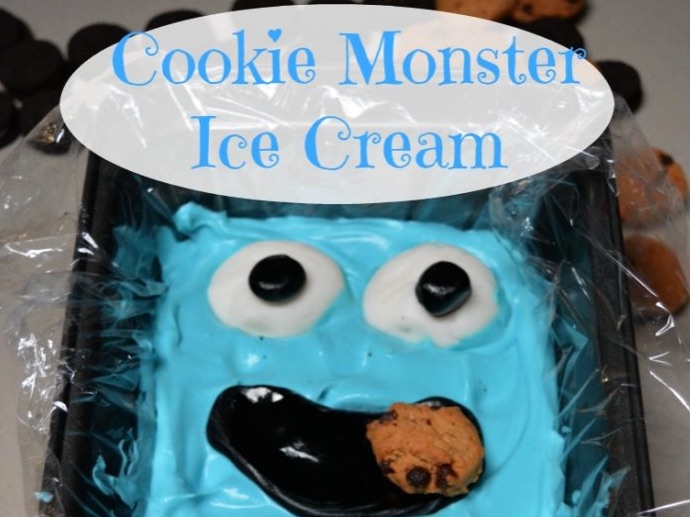 Cookie Monster Ice Cream Recipe
I know this looks terrible but it's also kind of funny. And what makes it even funnier is that this ice cream, in its' Cookie Monster form is for my 24 year old son. He has a bit of an obsession with the Cookie Monster so every year I try and come up with some form of dessert inspired by the great beast. There's been cakes and giant cookies with blue 'fur' and this year, well, it was ice cream.
I only had a vague idea in my head what I wanted it to look like. In fact the eye balls and mouth only came at the last second. I was just going to keep it simple; blue spiked with miniature cookies but then knew I had to have a face. Trouble is I didn't have a whole lot of fondant at home and I really only had one shot at getting it right. He loved it.
With just two ingredients (not including the cookies and food colour) this can be whipped up in no time – no ice cream maker required. Just condensed milk, cream and food colour. You will need the food colour paste and a LOT of it. Be prepared for blue lips!
2 cups whipping cream
397g can of sweetened condensed milk
blue food colour paste/gel
mini choc chip & oreo cookies
white fondant
black food paste/gel
Start with the food colouring with the condensed milk in a small bowl. Add a LOT more than you think you need because when it's mixed with the whipped cream it will go a lot lighter but that's OK you can always add more then.
In a large bowl, beat the cream until you have firm peaks. Add the blue condensed milk and beat together being careful not to overbeat.
Spread in a loaf tin lined with cling wrap.
Now make two eyeballs out of the fondant. Use a bit more fondant coloured with black food colour (I suggest you wear gloves and do this over baking paper to save staining everything in sight) and make a better looking mouth and inner eyes than me!
Pop the cookies in randomly to finish.
Freeze for several hours or overnight until firm.