Creamy Crumble Lemon Bars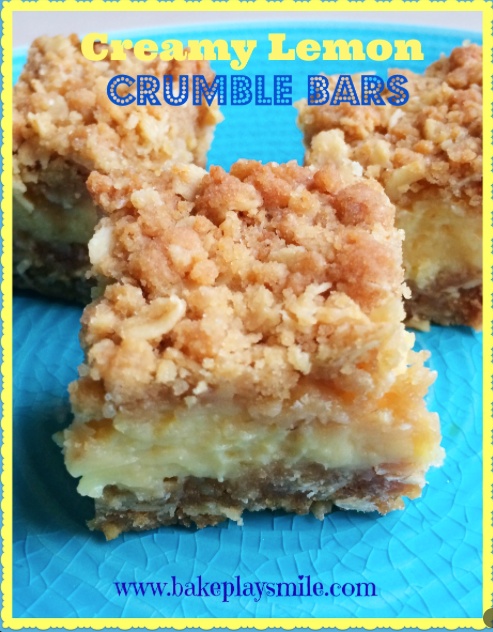 Creamy Crumble Lemon Bars
Last year I made an Apple Berry Crumble Slice and it was just the most yummy, delicious thing ever. I also remember that I totally justified eating it for breakfast due to the fact that it contained fruit (and if you have it warmed up, then let's not forget all of the calcium in a scoop of ice-cream dripping over the top). Anyway, I was looking for something equally as yummy, but a little bit new and special to take to a Biggest Morning Tea and decided to make Creamy Lemon Crumble Bars.
Mmmm just imagine a beautiful creamy, lemon curd filling between two deliciously crumbly layers. Yep, the original yummy crumble bars were taken to a whole new creamy, tangy, sweet level!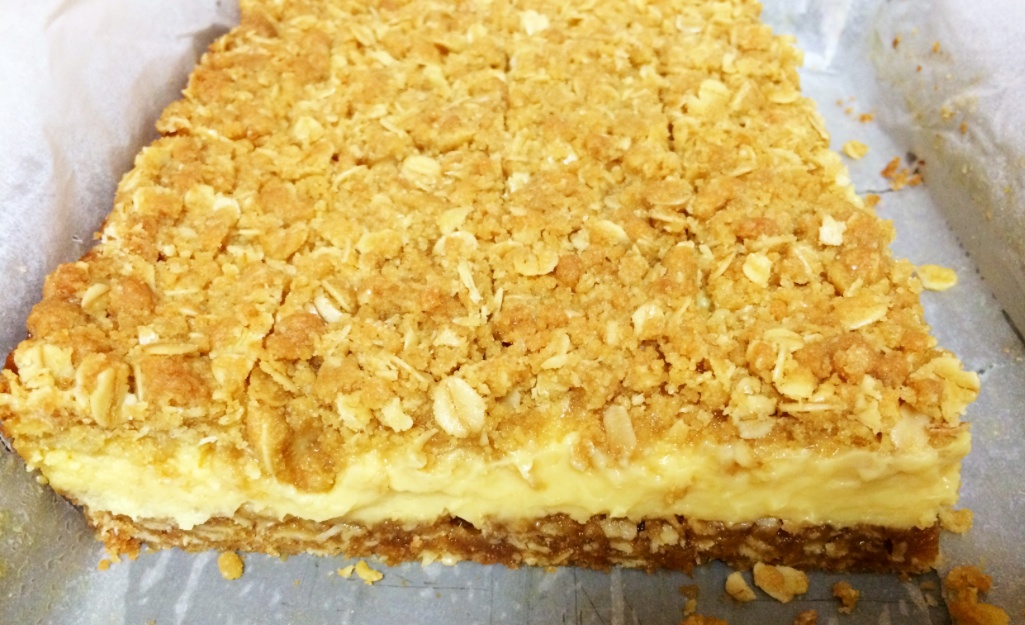 If you know someone who loves lemons, then this recipe will be absolutely perfect for them! It was great served cold at our morning tea, but I also think it would have been amazing warmed up and served with custard, cream or ice-cream for dessert.
I cut my slice into very small pieces (because we all know that when you go to a morning tea you just want a teeny, tiny taste of everything!!) so it made about 30 bite-size pieces. If you cut it into larger pieces then you would end up with about 16 pieces.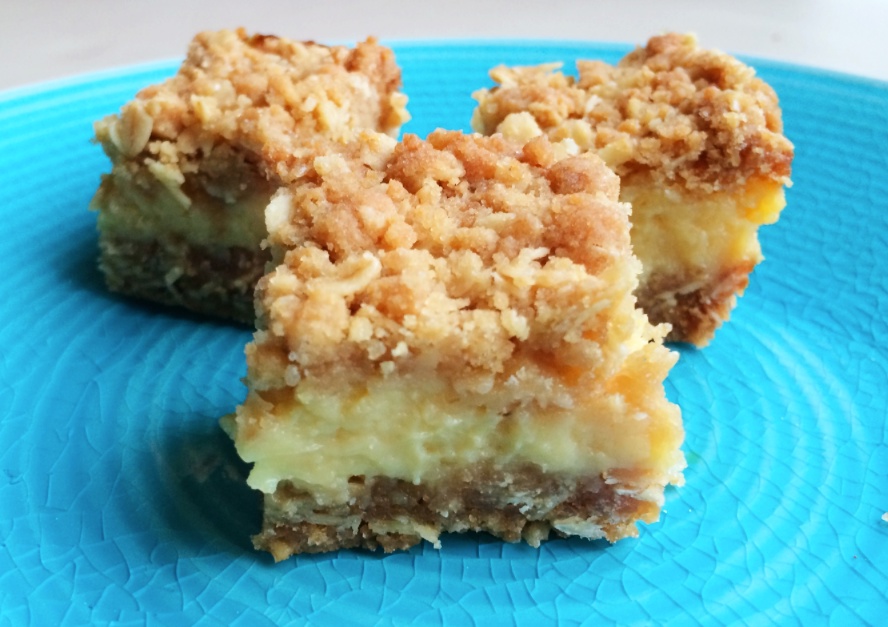 This slice was so good that I was super happy to take it to our morning tea and get it as far, far away from our house as possible (I ate way too much sugar last week… even by my standards!)
Creamy Crumble Lemon Bars Recipe
These Creamy Lemon Crumble Bars are perfect on their own for morning or afternoon tea…. or warm it up, smother in ice-cream and voila, you have an amazing dessert!
Creamy Crumble Lemon Bars
Ingredients
• 1¼ cups plain flour
• 1¼ cups rolled oats
• ½ tsp salt
• ½ tsp bi-carb soda
• ½ cup raw sugar
• ½ cup packed brown sugar
• ¾ cup unsalted butter, melted
• 1 tsp vanilla extract
• 1 X 395g / 14 oz can sweetened condensed milk
• 1 tbsp finely grated lemon zest
• ⅓ cup fresh lemon juice
• 2 large egg yolks
• ½ tsp lemon extract
Instructions
Preheat oven to 170 degrees celsius. (340 F)
In a large bowl, whisk together flour, rolled oats, salt and bi-carb soda.
Stir in the raw sugar and brown sugar and mix until smooth.
Stir vanilla into melted butter and pour mixture over dry ingredients.
Stir mixture until well combined.
Pop half of the crumb mixture into the bottom of a greased slice tin and press into an even layer. Bake in preheated oven for 15 minutes.
Remove from oven and put aside (leave the oven turned on).
In a bowl, whisk together sweetened condensed milk, lemon zest, lemon juice, egg yolks and Lemon extract until well blended.
Pour mixture over crumb crust in baking dish and spread into an even layer.
Sprinkle the remaining crumble mixture over the top of the lemon layer.
Bake in oven for 23 - 26 minutes or until lightly golden.
Remove from oven and allow to cool.
Cover and refrigerate for at least 1 hour then take it out and cut into squares.
Store in airtight container in refrigerator.
https://mumslounge.com.au/lifestyle/food/creamy-crumble-lemon-bars/
Hope you find this recipe just as good as we have.  Share it with others if you like it.
 More Dessert and Slice Recipes
For more recipes like this, click here to go to other Dessert Recipes in MumsLounge.com.au.
Hi there! My name is Lucy and I'm a primary school teacher, a wannabe baker, a wife, a blogger, a pilates lover, a chocolate addict, a super-organiser and an over-analyser. When I'm not teaching, you will usually find me whipping up something very naughty in the kitchen…. chocolate and caramel are two of my best friends! Come and join me over on my blog Bake Play Smile or on Facebook for some more sugarific baking adventures! xxx