Crushed Cheesy Potatoes Recipe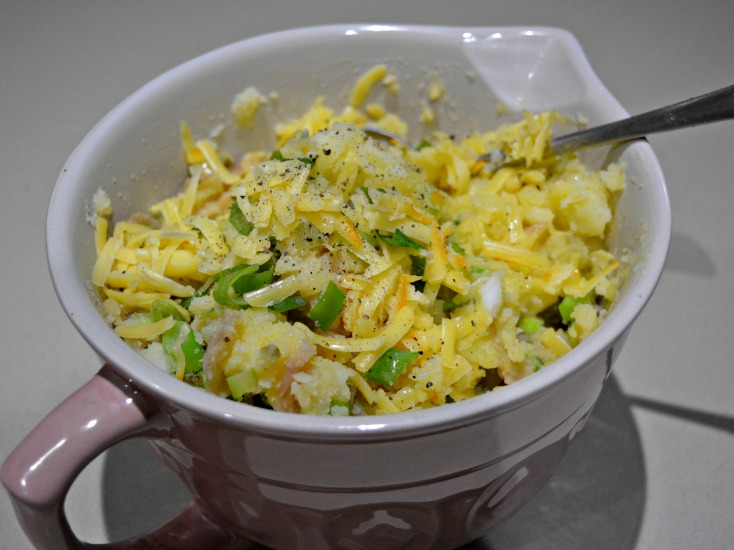 Crushed Cheesy Potatoes Recipe
I will never, ever, ever get tired of looking for new ways to serve potatoes and these Crushed Cheesy Potatoes are my latest favorite. So simple and equally delicious served hot or cold. Don't be fooled into thinking these will be plain given the simple handful of ingredients. There are a couple of sneaky ingredients that will have people scratching their heads wondering what they are. Don't tell them. Let this be your new secret recipe. You can use any sort of cheese you like for this dish; gruyere, tasty cheddar etc. but the smoky flavour from smoked applewood cheese is one of those "scratch your head, what IS that" ingredients I was speaking of.
The second sneaky ingredient is chopped dill pickles. Now before you get all snarky and say "but I don't like pickles, me and the kids always peel off our pickles from Maccas burgers and toss them out the window", just trust me. My husband thinks he doesn't like them either but what he doesn't know is that I use dill pickle juice in my potato salad dressing which he loves, dill seasoning in just about EVERYTHING and he had no clue they were in this potato dish either but he did absolutely love it, as did everyone else at the table.
The potatoes are cooked whole, in their skins, given a light squish with a potato masher (don't go overboard, we are just looking for a bit of texture here), and mixed with the rest. So easy!
Crushed Cheesy Potatoes Recipe
Ingredients
1.25kg red-skinned potatoes, unpeeled
30g of butter
4 spring onions, sliced
100g dill pickles, finely chopped
175g Smoky Applewood cheese, grated
sea salt & cracked black pepper
Instructions
Put the potatoes in a large pot of salted water, bring to the boil and cook for 30 minutes or until tender. Drain.
Roughly crush the potatoes with a potato masher. Add the butter, spring onions, pickles and cheese. Season with salt and pepper and fold everything together.
Serve hot or cold.
https://mumslounge.com.au/lifestyle/food/crushed-cheesy-potatoes/