Traditional Rissoles and Gravy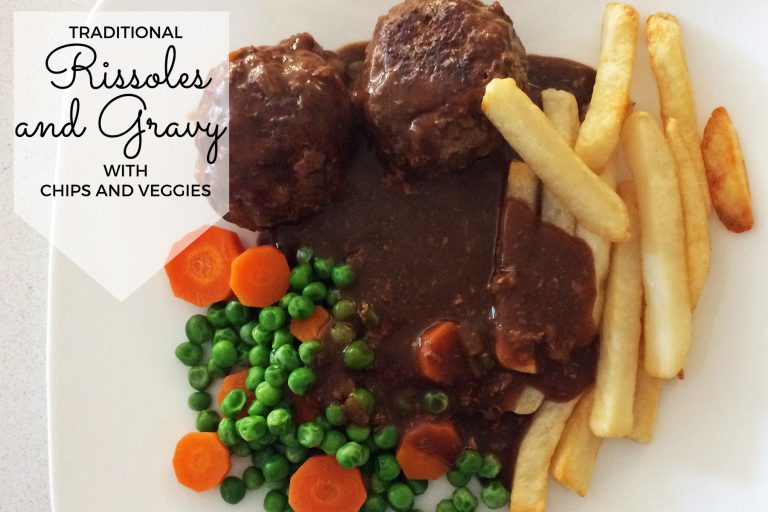 Traditional Rissoles and Gravy
This recipe has been handed down at least two generations of my family from jolly old England and these traditional rissoles and gravy were one of my favourite meals as a child growing up. My nan used to make them for my mum, and then my mum would make them for me. Now I'm making them for my family and they are a guaranteed plate-licker everytime.
I have added a couple of things to the rissole mixture that my nan wouldn't have, but that one secret ingredient adds a subtle boost of flavour to ensure these rissoles are a family favourite – sweet chilli sauce!
This gravy is seriously the best gravy in the world. All the sticky bits of onion and pan juices gets stirred into the rich gravy and you can't help but pour it all over everything. This is no time to be counting calories!
Traditional Rissoles and Gravy
Ingredients
1kg of beef mince
1 egg
1 beef Oxo
1 tablespoon of bbq sauce
1-2 tablespoons of sweet chilli sauce
1 onion, diced finely
1 glove of garlic, minced
1 tablespoon of Tuscan Seasoning
For the gravy:
2 beef Oxos
1 tablespoon plain flour
Oven fries and vegetables to serve
Instructions
1. Get your latex cooking gloves on and mix all of the rissole ingredients together until combined. Press the mixture into a ½ cup measuring cup and turn out to form 9 rissoles.
2. Cook the rissoles in a frying pan on medium high heat with a little oil in the bottom to prevent them from sticking.
3. Once the rissoles are cooked on both sides (15 minutes or so total), take them out and put them on a plate. Sprinkle 1 tablespoon of flour over the pan juices and stir to combine and cook the flour.
4. Dissolve your beef oxos in 2 cups of hot water and slowly add to the floury mixture a little at a time while stirring. Continue stirring and bring to the boil, then reduce to simmer. Season to taste with salt and pepper.
5. Return the rissoles and plate juices to the gravy pan and turn to coat. Heat through and serve with oven fries and steamed veggies.
https://mumslounge.com.au/lifestyle/food/traditional-rissoles-gravy/