Delicious and Nutritious: Super-Dooper Porridge Recipe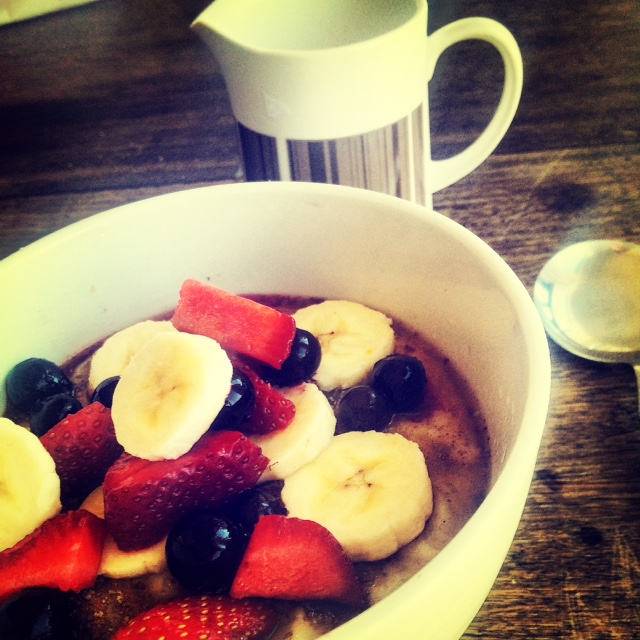 Sponsored post
Delicious and Nutritious: Super-Dooper Porridge Recipe
This recipe was made in the new Breville Quick Touch Crisp microwave and is packed FULL of super foods: oats, cinnamon, LSA, blueberries and honey!
You can read my full review of the microwave here.
Delicious and Nutritious: Super-Dooper Porridge Recipe
Ingredients
Half cup (60g) quick rolled oats
1 cup of milk
1 tsp vanilla essence
2 Tblsp honey
1 Tblsp brown sugar
4 strawberries quartered
Half a banana sliced
Handful blueberries (fresh or frozen)
Sprinkle of cinnamon
1 Tblsp LSA (ground linseed, almond, sunflower seeds)
Instructions
Put oats, milk and vanilla in microwave safe bowl. And put in the Quick Touch Crisp microwave.
Select COOK / GRILL option
Turn dial to oatmeal and
Select correct amount 60 g and press start
Half way through the cooking process the microwave will beep, pause and stir the porridge and press start again.
At the end of cooking, let the porridge rest for a couple of minutes and stir in more milk if too thick.
Sprinkle on brown sugar, cinnamon, and LSA , drizzle with honey and top with the fruit.
https://mumslounge.com.au/lifestyle/food/delicious-and-nutritious-super-dooper-porridge-recipe/
Serves 1 – 2
Fancy giving this recipe a try yourself at home?
We have one Breville Quick Touch Microwave to giveaway valued at $449
To enter, simply complete the entry form below.
Good luck!
a Rafflecopter giveaway

The Breville Quick Touch Crisp Microwave has only been available since August 1st and can be purchased from the following retailers: The Good Guys, Harvey Norman, Bing Lee, Myer, David Jones, JB Hifi
For more information about this kitchen appliance, or others in the Breville Quick Touch range you can visit the Breville website here.
Insert hyperlink  http://www.breville.com.au/the-quick-touchtm-crisp.html