Easter Egg Rocky Road Recipe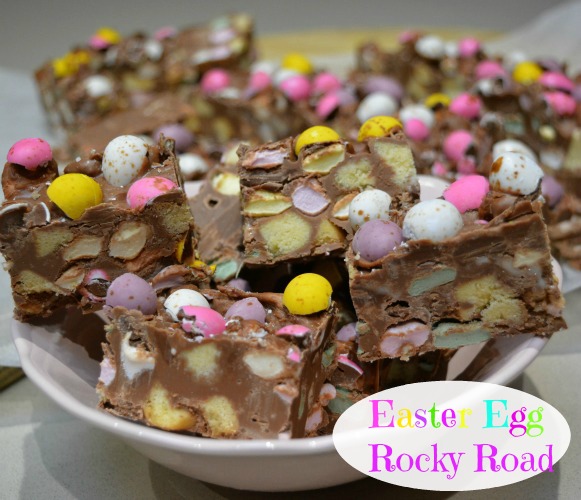 Easter Egg Rocky Road Recipe
This Easter Egg Rocky Road could also be called Death by Chocolate cause the only ingredients other than chocolate are some marshmallows and cookies. There are FOUR kinds of chocolate in them including Cadbury Crème eggs, mini Easter eggs, Cadbury mini eggs AND 500g of plain milk chocolate. I know, right? Probably one of the easiest things you will ever make with no baking required at all. Just a quick melt of the plain milk chocolate and a mix with all the other ingredients. Pop it into a tray and set in the fridge. Your biggest challenge will be waiting until it's ready so you can eat some! And how gorgeous does it look? We absolutely devoured this slice. I'm going to make it again just before Easter together with the Easter Egg Cookies and Easter Bark, wrap it all up in pretty cellophane and give it away instead of the traditional bunnies and eggs this year!
Easter Egg Rocky Road Recipe
Ingredients
500g milk chocolate, broken into pieces
100g mini marshmallows
100g shortbread cookies, roughly chopped
4 Cadbury Crème eggs, roughly chopped
50g mini Easter eggs, roughly chopped
125g Cadbury mini eggs (the coloured candy-coated ones), roughly broken
Instructions
Line a square baking dish with non-stick baking paper.
Melt the chocolate in a heatproof bowl over a pan of simmering water (do not let the bottom of the bowl touch the water).
Combine the marshmallows, shortbread, crème eggs and mini Easter eggs together in a medium bowl. When the chocolate is melted, pour into the bowl and mix. Scrape it into the pan immediately with a spatula and top with the broken Cadbury coloured mini eggs. Pop into the fridge for about an hour or until firmly set then use a sharp knife to cut into wedges.
https://mumslounge.com.au/lifestyle/food/easter-egg-rocky-road-recipe/