Home Build Update: Bedroom Storage Ideas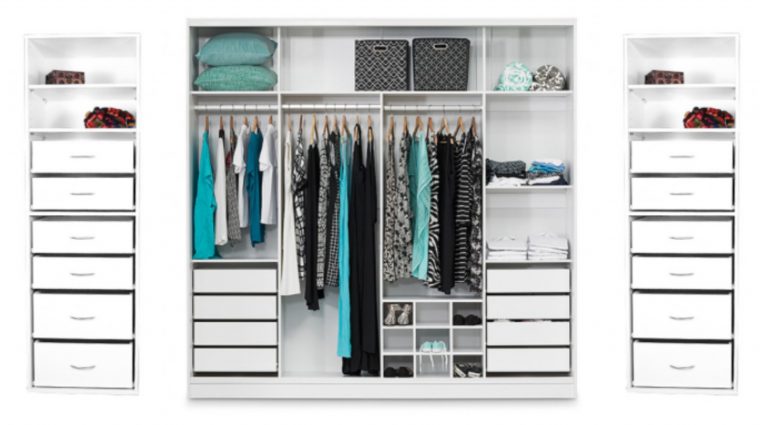 Home Build Update: Bedroom Storage Ideas
Sponsored post
As I mentioned last week when I shared our tile selection for the ensuite, I've already started to think about storage options for the bedroom.
With a fairly sizable walk in robe, I'm planning on keeping the bedroom free from clutter and keeping all of the drawers etc for clothing in the WIR.
At the moment we are living in a rental house while the house is being built, so lots of clothes have been put into storage and I only brought what I thought I'd need for the duration of the build. (Plus, the things I have added to my wardrobe in that time of course! Ha!) The truth is that the wardrobe that Hubby and I share at the moment (and I use the term 'share' very loosely) can only be described as a god-awful mess!
See, I told you. There is absolutely no love for this WIR at all! Things are just thrown wherever they fit and as you can probably imagine I can never find anything. It's just a horrible stressful mess that I keep ignoring.
It's clear that I need to have a storage plan in place for the new house to avoid this.
As you may remember, I have been working with SuperAmart quite regularly of late, and have subsequently become a huge fan! I have already added the 11 piece Bolt package to my (ever-growing) wish-list for the kitchen, dining and family area. As you know I was really impressed with the quality of their furniture when I visited my local store recently (You can read about that here) so it made sense to me to check out any options they may also have to help me with the wardrobe storage.
Within half an hour of hitting the SuperAmart website armed with the dimensions of the wardrobe (so I could select correct pieces for the size of the space) I had everything clear in my head, (which is almost a miracle in itself!)
Organisation is within reach, even for me! Ha!
Just so you know what I'm working with, here is an image illustrating the WIR.
As you can see by my pink lines we've made some alterations to the original plan. Instead of a door leading into the en suite we have opted for a wall, and the wardrobe rail is only on one wall.
The Spacemaster Babylon Extra Large Robe appealed to me instantly. You can see below how adding shelf inserts, 4 drawer module inserts and a shoe insert allows you to customise this wardrobe to suit your needs, whilst maximising the space.
I'm also a sucker for a cube storage unit with added rattan baskets for tidy storage (my daughter has one in her room, and there is another in the room that my boys share and they are perfect for hiding and storing all your bits and pieces).
SuperAmart have the Riley 25 cube storage unit, which could also be a great place to store and display my shoes. The pretty ones…not the ugg boots! (Yeah Carrie Bradshaw eat your heart out!)
I've also added a Spacesaver Module 6 Drawer  on either side of the Spacemaster, because, let's be honest, you can never have too many drawers!
It also occurred to me that these or even the Spacesaver Module wire baskets 6 drawer would be an excellent storage option to add to the kids' built in wardrobes too. If I can avoid putting a a chest of drawers or tallboy in their room they'll have more floor space to play.
I think with these clever and compact storage options, I'll be able to avoid any wardrobe nightmares in the future!
If you are having a wardrobe nightmare of your own, or could be using your space more wisely, check out SuperAmart's storage options on their website. There are lots more products there that I haven't mentioned, so regardless of the size or shape of your space, you'll be able to find something that suits.
Anyone else game to share what their wardrobe looks like? Either super- organised or slightly less than, like my own?
C'mon! Show us your wardrobes!