Grilled Chicken with Pesto Cream Sauce Recipe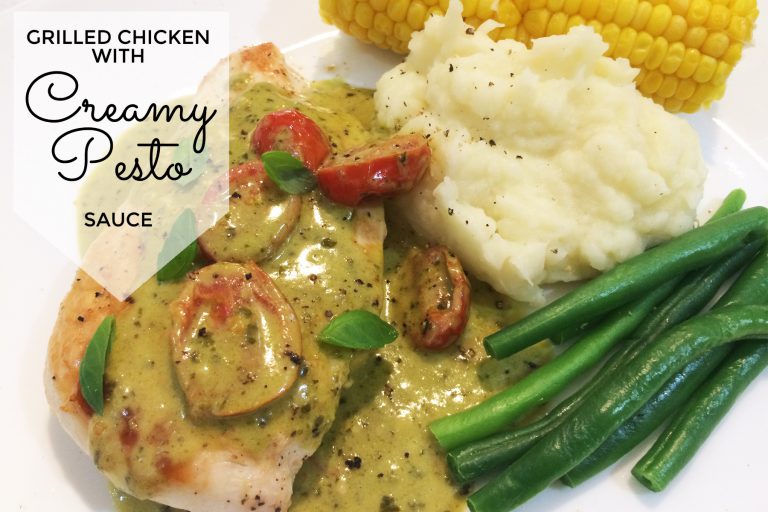 Grilled Chicken with Pesto Cream Sauce Recipe
I'm always looking for new and interesting recipes to make with chicken breast fillets. They're so cheap, versatile and easy to cook with, plus everyone in my family just loves chicken and can't get enough of it. So when I found this simple pesto cream sauce, I just knew it was going to be a winner. And I was right!
With just a handful of ingredients, you can make this delicious restaurant-quality topper in no time at all, adding loads of flavour to plain old chicken breast fillets.
Here's what you'll need to get this amazing meal on your table.
Once you have enough chicken to feed everybody and your choice of steamed veggies and mashed potato, you will need some cream, a punnet of cherry tomatoes, some basil pesto and some fresh basil. The fresh basil is optional, you don't really need it, but it's nice to make things a little fancy sometimes, especially when they taste so good.
Cook your chicken breast fillets in a frying pan until golden and browned slightly on each side. Make sure they are cooked all the way through. I like to slice them horizontally before cooking to make two thinner steaks — it makes the chicken go further among the children plus it's easy to ensure they are cooked all the way through.
Once the chicken is cooked, remove it to a plate and cover with foil. Pop the halved cherry tomatoes into the pan and cook for a few minutes or until they start to soften. Then add the cream and pesto and stir well to combine.
That's really all there is to it! Plate up your chicken, mashed potato and veggies and spoon your delicious creamy sauce over the top. Easy peasy!
And the best part? If you have a little Polly Pickypants in your family, just hand them the tomato sauce bottle instead of the pesto cream sauce. All the more for you!
Grilled Chicken with Pesto Cream Sauce
Ingredients
1 tbsp olive oil
4 chicken breast fillets
200g punnet cherry tomatoes
3 tbsp pesto
3 tbsp cream
Mashed potatoes and steamed vegetables to serve
Instructions
Heat the oil in a frying pan. Add the chicken and cook until it has browned slightly. Turn and repeat. Continue cooking for 12-15 mins until the chicken is cooked through. Season with salt and pepper, then remove the chicken to a plate and cover with foil to keep warm.
Halve the tomatoes and add them to the pan, stirring them around for a couple of minutes until they start to soften. Reduce the heat and stir in the pesto cream until it makes a sauce. Scatter with a few basil leaves and serve with mashed potato and steamed vegetables.
https://mumslounge.com.au/lifestyle/food/grilled-chicken-pesto-cream-sauce-recipe/