Grilled Mushroom and Caramelised Onion-Filled Beer Can Burgers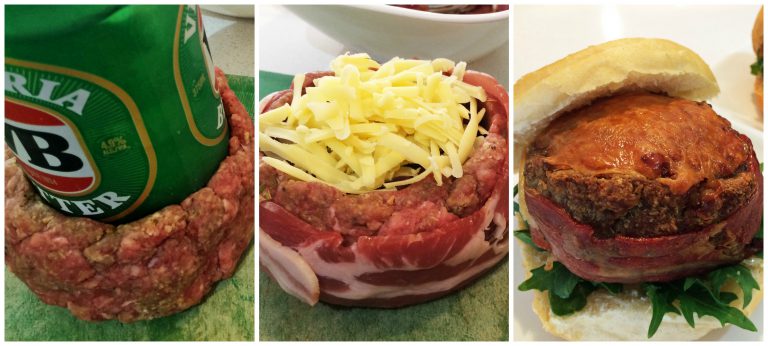 Grilled Mushroom and Caramelised Onion-Filled Beer Can Burgers
When I found this recipe for these amazing beer can burgers I just knew I had to give them a try. And I wasn't disappointed – they were amazing!
Shaped around a beer can to form a cavity, these burgers are filled with grilled mushrooms and homemade caramelised onions, then topped with cheese and baked in the oven or barbecue. And because all the toppings are in the burger, you only need hamburger buns and fresh salad leaves to serve!
Here's what you'll need to make this crowd-pleasing summer barbecue favourite.
For the hamburger patties – beef mince, breadcrumbs, an egg and hamburger seasoning. For the caramelised onions – two red onions, butter, red wine vinegar and caster sugar.  You'll also need some mushrooms and grated cheese, as well as bacon, thyme, bread rolls, lettuce and seasonings (not pictured).
First, make your fillings. The caramelised onions were by far the most time consuming part of the recipe so feel free to skip this step and use ready made from a jar if you like. I don't think it would make that much of a difference to be honest, but they certainly were yummy made from scratch.
Then combine your hamburger ingredients together and divide into four. Shape each quarter around a beer can to form a little bowl.
Wrap a rasher of bacon around the meat and gently remove the can. Drink it if you like!

Half fill the cavity with your grilled mushrooms…
… then top with your caramelised onions and a little thyme. I used dried thyme, didn't matter.
Top with some grated tasty cheese and place onto a baking tray.
Bake in an oven or covered barbecue (not on direct heat, we're baking, not frying) for 45 minutes and serve on the buns with mixed salad leaves and enjoy!

Other variations of this meal you could try are:
lamb mince with feta, olives and char-grilled capsicum
chicken mince with sundried tomatoes and wilted baby spinach
beef mince with grilled onions and an egg cracked into the centre with cheese on top
Grilled Mushroom and Caramelised Onion Filled Beer Can Burgers
Ingredients
500g beef mince
1 cup breadcrumbs
1 egg
2 tbsp hamburger seasoning
60g butter
2 red onions, sliced
1 tbsp red wine vinegar
1 tbsp caster sugar
200g mushrooms, sliced
4 rashers of bacon
Fresh thyme
1 cup grated tasty cheese
4 hamburger buns
Mixed salad leaves
Instructions
Melt the butter in a frying pan and add the red onions. Cook, stirring over low heat for 20 minutes or until very tender. Add the vinegar and sugar and continue to cook for another 5 minutes. Season and allow to cool.
Pan fry the mushrooms for 5 minutes until golden. Allow to cool.
Combine the mince, breadcrumbs, egg and seasoning in a large bowl and mix well. Divide into 4 equal portions. Shape each portion into a ball, then press gently to flatten into a large circle. Place a beer can in the centre of the circle and shape the meat around it to form a bowl. Wrap a rasher of bacon around the meat bowl and gently remove the can.
Fill the cavity with fried mushrooms, caramelised onion and some fresh thyme. Top with grated cheese and place onto a baking tray.
Bake in the oven or a covered barbecue (using indirect heat) at 180 degrees for 45 minutes until cooked through. Serve on hamburger buns with salad leaves.
https://mumslounge.com.au/lifestyle/food/grilled-mushroom-caramelised-onion-filled-beer-can-burgers/