Home Made Chilli Con Carne Recipe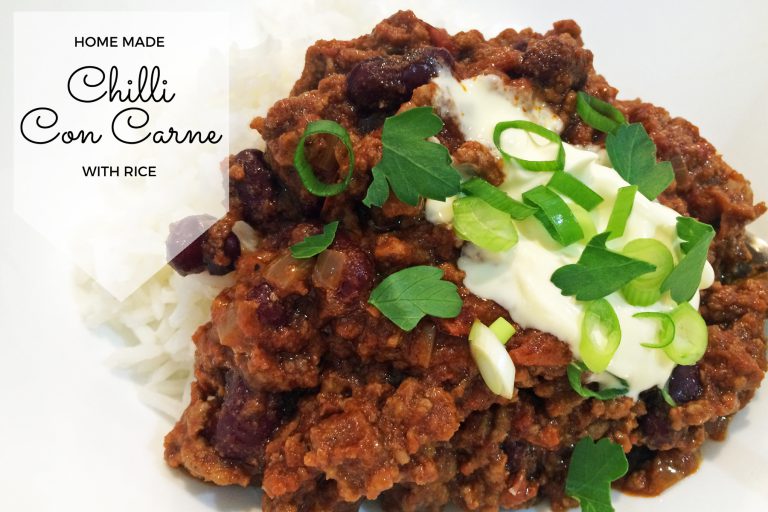 Home Made Chilli Con Carne Recipe
This home made recipe for chilli con carne was an instant hit with my family, and we will be making it again and again. There are two options for this meal – a family friendly 'taco mince' style with no heat, and a fiery spicy version including cayenne pepper and jalapeños!
Firstly, let's look at the ingredients you'll need to tackle this quick and easy meal. You'll want to throw away the recipe base packets when you see how simple it is to put together!
You'll need half a kilogram of beef mince, a tin of red kidney beans, a tin of diced tomatoes, one brown onion, some garlic cloves, shallots, peanut oil, salt and pepper, sour cream, fresh coriander, ground cumin and ground coriander. I also added one beef oxo dissolved in some water for an added flavour boost towards the end.
Herb aficionados may have picked up that the herb pictured is not, in fact, coriander but continental parsley instead. Let me tell you why. I hate coriander with the passion of a thousand burning suns. I will not use it in my cooking unless I intentionally want the meal to taste like soap. So I substitute it where I can, or just omit it altogether.
You can have this meal on the table in about twenty five minutes, it's dead easy. Heat some oil in a frying pan and add your onion and garlic and saute them while stirring. Add your spices, then the mince. Break it up with a spoon as it browns as usual, and when it's done, add the diced tomato, tomato paste, dissolved beef oxo and kidney beans. Simmer, stirring occasionally, for 10 minutes or until mixture thickens.
Serve your chilli con carne with rice, topped with sour cream, shallots and herbs.
Print up your recipe card here.
Home Made Chilli Con Carne
Ingredients
1 tablespoon peanut oil
1 brown onion, halved, finely chopped
2 garlic cloves, crushed
1 tablespoon ground cumin
1 tablespoon ground coriander
1 beef oxo
2 teaspoons cayenne pepper (optional)
500g beef mince
1 tin of diced tomatoes
2 tablespoons tomato paste
300g can red kidney beans, drained, rinsed
2 tbsp chopped jalapeno chillies (optional)
Salt & freshly ground black pepper
sour cream
3 green shallots, thinly sliced
2 tablespoons chopped fresh coriander
Rice, to serve
Instructions
Heat oil in a non-stick frying pan over medium-high heat. Add onion and garlic and cook for 3 minutes or until onion softens. Add ground cumin, ground coriander and cayenne pepper (omit pepper if cooking for kids) and cook, stirring, for 1 minute.
Add mince and cook, stirring with a wooden spoon to break up any lumps, for 5 minutes or until it changes colour. Stir in diced tomato, tomato paste, beef oxo dissolved in ¼ cup of water and kidney beans. Reduce heat to medium and simmer, stirring occasionally, for 10 minutes or until mixture thickens. Remove from heat and stir in chilli (omit if cooking for kids). Taste and season with salt and pepper.
Serve with rice, topped with sour cream, shallots and herbs.
https://mumslounge.com.au/lifestyle/food/home-made-chilli-con-carne-recipe/