KEEN'S Singapore Noodles Recipe PLUS Win Over $1,000 in Prizes!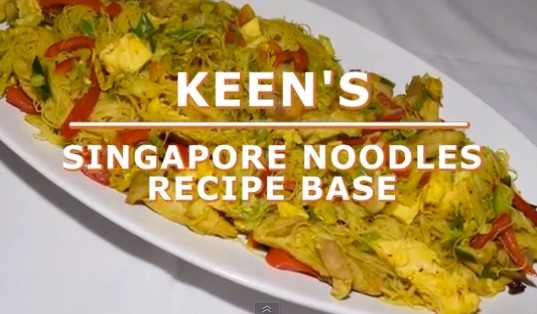 Sponsored post
KEEN'S Singapore Noodles
This classic noodle dish combines Keen's Traditional Curry flavour with chicken, capsicum, cabbage and eggs to make a delicious family meal.
Preparation time: 15 minutes
Cooking time: 10 minutes
No. of serves: 4
Ingredients
2 tbsp oil
2 eggs, lightly beaten
500g chicken thigh fillets, sliced
1 x 40g sachet Keen's Singapore Noodles Recipe Base 1 red capsicum, sliced thinly
2 cups Chinese cabbage, shredded
200g thin dry vermicelli rice noodles, cooked as per packet instructions
2 spring onions, thinly sliced
Method:
Heat oil in a large frying pan or wok and fry the eggs, remove and slice, then set aside.
Fry the chicken in the same frying pan for 2 minutes then add in the capsicum, cabbage andKeen's Singapore Noodles Recipe Base. Stir-fry for a further 3-4 minutes.
Toss in the pre-prepared and drained noodles, spring onions and egg until warmed though.Serve hot.
Keen As Prize Pack
Some recipes just aren't the same without that special ingredient – when it comes to classics like Curried Sausages, it just has to be KEEN's.
Used by Mums, Grandmas and Great-Grandmas across Australia, KEEN's Curry Powder has been a faithful kitchen companion for generations (go on, check the pantry!) to add that special something to mealtime.
And now KEEN's has just launched an all-NEW range of recipe mixes, making it even easier to create those classic Keen's family dishes. Simply add a few fresh ingredients to quickly and easily serve up:
Curried Sausages
Chow Mein
Satay Beef
Creamy Chicken Curry
Singapore Noodles
Available at Woolworths and IGA stores nationally.
To celebrate the launch of Keen's NEW range of recipe mixes, Keen's are giving you the chance to win this amazing kitchen prize pack valued at over $1,000.
The prize pack includes:
$250 supermarket voucher
GreenPan Kyoto 28cm Saute Pan with Lid (RRP $169) and GreenPan Kyoto 18cm Saucepan with Lid (RRP $99.95) Featuring GreenPan's patented 100% PFOA free non-stick non-toxic coating Thermolon™ Marathon, this sauté pan and saucepan are equipped with a black aluminium body for even heat distribution and both are suitable for all cook top types including induction.
GreenPan Cast Iron Grill (RRP$400) This eco-friendly nonstick pan is great for grilling everything from meats, poultry and fish to fresh vegetables. It has a cast iron grill base, stainless steel rack and domed lid. Heavy-gauge cast-iron efficiently conducts and retains high heat for perfect searing. It is completely free of PTFE and PFOA, the natural, mineral-based Thermolon nonstick coating ensures effortless release and easy cleanup.
60 packets of the NEW Keen's recipe bases (RRP $101.40), which includes Keen's Curried Sausages recipe base, Keen's Chow Mein recipe base, Keen's Singapore Noodles recipe base, Keen's Creamy Chicken Curry recipe base and Keen's Satay Beef recipe base.
To enter simply follow the instructions on the entry form below.
There will be a new video recipe each week – and a new chance to enter!
Good luck!
Disclosure: This post is sponsored by Keen's.