Lemon Curd Pavlova Recipe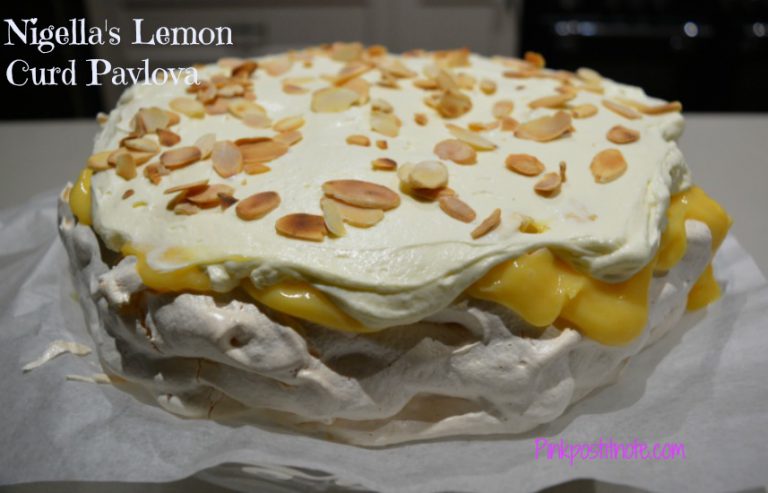 Lemon Curd Pavlova Recipe
Are you a fan of lemon desserts? I'm not actually a huge fan of the zestiness of lemons, much preferring chocolate but my husband is mad-crazy about them. If there's anything lemon on the menu in a restaurant for dessert I know that's what he will order.
Being Canadian pavlova is not something I grew up with and I've kind of left it to the Aussie experts to make it thus far. Having said that I've made a lot of meringue desserts (and the principle is exactly the same, beating egg whites with sugar and baking at a low temperature) and so far I haven't had any disasters. So I knew it was time to roll up my sleeves and give it a crack.
We had friends for dinner last Saturday and it was a pretty full-on meal; slow cooked beef, hassleback potatoes, cauliflower with caramelised onions and gruyere cheese and a jalapeno focaccia. And all of THAT was after we had a rich, smoky cheese dip for starters. So I knew dessert had to be light on the palette and the stomach.
This turned out to be just the ticket and was a huge hit. I made the pavlova base in the morning and sat it on the benchtop until ready to serve. I made the lemon curd while the pavlova was baking and left it in the fridge until ready to serve along with the whipped cream and the toasted almonds. It took about all of one minute to put it together (even though I'd consumed about 4 glasses of wine by then).
The lemon curd was surprisingly easy to make, it's just eggs, butter and lemon juice slowly whisked over low heat until thickened. If you're not super confident about making your own (because sometimes if you're not careful you can scramble those eggs) there's loads of beautiful store-bought lemon curds you can substitute and after 4 glasses of wine, probably no one else will know either but I think you should give it a try anyway.
I am now a Pavlova Maker!!
Lemon Curd Pavlova Recipe
Ingredients
For the Pavlova
6 egg whites
375g caster sugar
2 1/2 tsp corn flour
2 tsp lemon juice
1 tsp lemon zest
For the Lemon Curd
2 eggs
2 egg yolks
150g caster sugar
100g soft, unsalted butter
Juice of 2 lemons, approx
Zest of 2 lemons
300ml whipping cream, to serve
2 tbsp. icing sugar, to serve
toasted almond slices, to serve
Instructions
Pre-heat oven to 180C/160C fan-forced/350F
Line a large baking tray with non-stick baking paper. Draw a round circle approximately 20cm in diameter. Turn the paper over or the ink will transfer onto the meringue.
Put the egg whites into a large mixing bowl and beat on high speed until peaks start to form. Gradually add the sugar only a few tbsp. at a time, beating continually. Occasionally switch the mixer off and scrape down the sides of the bowl because some of the sugar will stick to the bowl. Continue to mix until sugar is completely dissolved. This can take up to 15 minutes. Then add the corn flour, lemon juice and zest and whip to combine.
Spread the meringue over the baking paper to fit into the circle you drew. Use a spatula or palette knife to spread evenly and flick the edges of the meringue up to make it as tall as possible.
Turn the oven down to 110C.
Bake the pavlova for one hour. Turn oven off and leave the pavlova in the oven to cool.
Meanwhile make the lemon curd:
In a medium saucepan, whisk the eggs, yolks and sugar together. Then whisk in the butter and most of the lemon juice and zest. Over medium low heat whisk until slightly thickened. You will know it's ready when the whisk leaves a mark in the mixture. Taste it for the right amount of zesty lemon flavour and add a touch more lemon juice if desired.
Remove to a bowl and cool, then transfer, covered with cling film to the fridge until required.
Whip the cream and icing sugar until stiff peaks form.
To assemble; spread the lemon curd over the top then top with the whipped cream then sprinkle the toasted almonds on top.
https://mumslounge.com.au/lifestyle/food/lemon-curd-pavlova/