Lemon Rosemary and Garlic Focaccia Recipe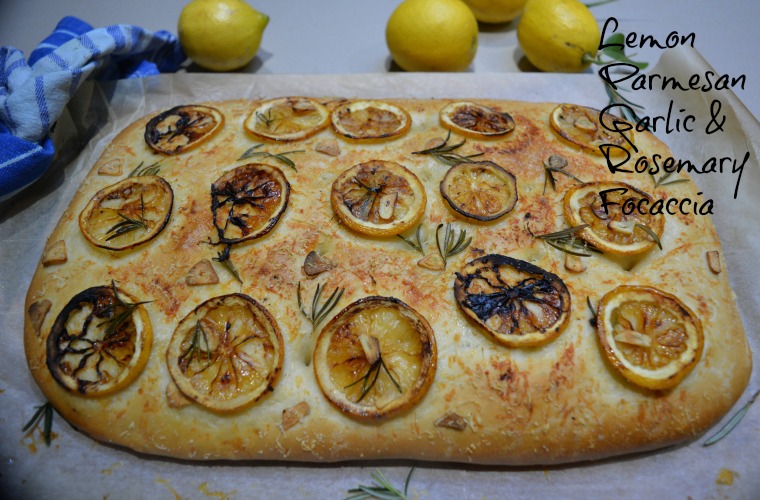 Lemon Rosemary and Garlic Focaccia Recipe
My lemon tree is groaning with fruit at the moment so the timing of this bread was perfect. If you have never made focaccia before, then now is just as good as any time to learn. It is supremely easy to do – there's no worrying about a huge fluffy loaf or a perfect shape. Focaccia begs to be treated as rustic. And the list of things you can put in it or on top of it is endless.
In fact this bread was so good, I made it twice in four days. The second time I put jalapenos and cheddar into the dough and topped it with chilli flakes. To. Die. For.
You may be wondering if you can eat those slices of lemon on top? Yes, you can. They are caramelised first with a bit of sugar in a frypan and they go sweet and tart and soft and caramelised all at the same time. And when you bite into this bread you are getting a hit of the lemon, the parmesan cheese, rosemary and sea salt and it is incredibly good.
Whether you have a mixer with a dough hook (the easiest way to do it), a food processor or just a bowl and your hands you can have this ready in no time. Make the dough first and while it's resting, get onto your lemons and then leave them aside on a plate until you're ready to bake.
Lemon Rosemary and Garlic Focaccia Recipe
Ingredients
1 sachet (7g or 2 tsp) dried yeast
2 tsp caster sugar, divided
3+ cups plain flour
1 tsp salt
1/3 cup olive oil, divided
2 small lemons, thinly sliced
2 tbsp. polenta (cornmeal)
1/2 cup finely grated parmesan
2 garlic cloves, thinly sliced
8 small rosemary sprigs
sea salt flakes, to sprinkle
Instructions
In a large mixing bowl, whisk together the yeast, 1 tsp of the sugar and 1 1/4 cups lukewarm water. Leave for 5 minutes or until foamy.
Add the flour, 1 tsp salt and 1/4 cup of the oil to the bowl and using the dough hook mix together until a smooth, elastic ball of dough is formed. If the dough is sticky, gradually keep adding extra flour until you have the right consistency. If you don't have a mixer with a dough hook you can use a food processor or just do it by hand.
Rub a little oil on the inside of a large clean bowl and pop the dough in. Cover with plastic wrap and set aside in a warm place until doubled in size. I like to turn the oven on and leave the bowl on top of the stove. This will take around an hour.
While you're waiting, drizzle 2 tsp of oil into a large fry pan and sprinkle the remaining tsp of sugar over the lemon slices and fry on each side for a minute or two or until golden and caramelised.
Pre-heat oven to 220C/200C fan-forced/475F.
Line a baking tray with non-stick baking paper and sprinkle the polenta over the paper.
Roll the dough out to a rectangle approximately 20cm x 30cm. Place the dough onto the prepared tray.
Use the handle of a wooden spoon to put dents all over the dough.
Sprinkle the parmesan over the dough then scatter the garlic, rosemary and lemon slices over the top. Drizzle the remaining olive oil over the top and sprinkle with a bit of sea salt.
Bake for 20 minutes or until golden brown. Cut into slices to serve.
https://mumslounge.com.au/lifestyle/food/lemon-rosemary-garlic-focaccia/