The Only Bread With All The Bits That Mums Love Without The Bits That Kids Don't!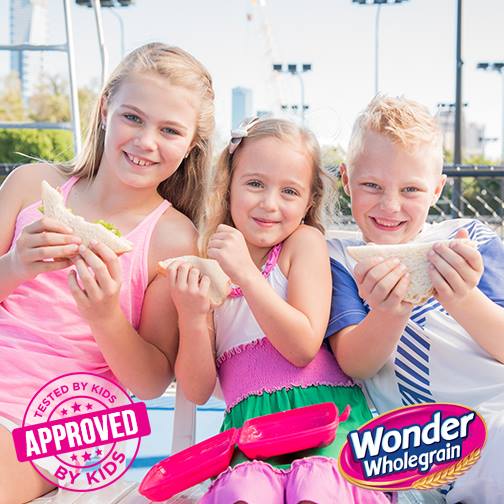 The Only Bread With All The Bits That Mums Love Without The Bits That Kids Don't!
Sponsored post
Are You Familiar With the 'Ick Face?'
Is there anything more annoying, frustrating or disheartening than placing a plate of food before your child only to be met with the 'ick face?'
You know the one I mean, right?
It starts off with an upturned crinkling around the nose, then the mouth opens into a grimace, the tongue comes out and your child makes a noise that resembles the cat trying to cough up a fur-ball!
"Ick, I don't like that!"
"Yuck! Do I have to eat it?"
"But muuuuum! Bleurgh!"
And you just know, that right now, you'd rather take your chances in the ring with Mike Tyson than face off against your crinkle-faced kid. It would be less exhausting, and frankly, you'd probably stand better odds of winning!
Fortunately my three kids are pretty good when it comes to eating their fruit and veggies but getting them to eat grainy or wholemeal bread has become something of an ongoing battle lately.
"But all of my friends at school have white bread."
"I don't like the bits.' *cue irritating ick face.
"But muuuuuuuuuuuuum."
Possibly more irritating and frustrating than the ick face is opening their lunchboxes at the end of the day to find that the 'gross grainy stuff that mum likes,' as it is often referred to in my house by the kids, (aside from looking like it has been sat on), hasn't been touched!
And unfortunately it's only good for them if you can actually get them to ingest the stuff!
The Solution
When I saw the Wonder Smooth Wholegrain video above it really resonated with me. Life was so much simpler when we were kids, wasn't it? We played out in the street with the other kids until the street lights came on or we got hungry – whichever came first. Our parents didn't organise 'play dates' or take us out on multiple day trips to fill up the school holidays. We made our own friends and it was up to us to entertain ourselves.
But it's not like that for kids today is it? We run them from school to sports and expect them to eat all kinds of food we'd never even heard of until our mid-twenties. C'mon, seriously how long have you known about quinoa, really?
And really, why sweat the small stuff so much? Isn't life busy, chaotic and challenging enough without turning little 'bits' into a BIG thing?
Why not give them the white bread they want…especially if it still has the wholegrain in it that I want them to eat?
I figure that Wonder Smooth Wholegrain is a win-win for them and me.
I'm not opposed to using sneaky tactics in my mission to give them a nutritionally balanced diet if it makes life easier!
If you can whizz up all those good bits and disguise it as good old smooth white bread, I am in!
And no more ick face!
I've featured just two of the videos here (I think they are a crack up!), but you can see the full series here. I've already shared them with my girlfriends who struggle to get their kids to eat high fibre wholegrain bread (and we've had a good giggle and mentally high-fived each other when we've made the switch and our kids have had no idea!)
I'll be honest, a lot of the time I feel like an imposter just kind of muddling along, making up this parenting thing as I go. (I'm 37 and I'm still finding it hard to believe that I am an actual grown-up in charge of actual little people!) There are so many decisions to make, (both big and small) and I don't always get it right. So when I find something that makes parenting easier, AND I can be confident is a good choice for my family, I do tend to get a bit excited and want to tell everybody.
Try Wonder Smooth Wholegrain for yourself. And don't forget to help a sister out, and share your favourite videos with your fellow mums! We're all in this together!
Click here to download Wondersmooth_where is my dinosaur_colouring page
Click here to download Wondersmooth_where is my hovercar_colouring page
Click here to download Wondersmooth_where is my jetpack_colouringpage