Lunch Box Friendly Tuna and Corn Quinoa Sushi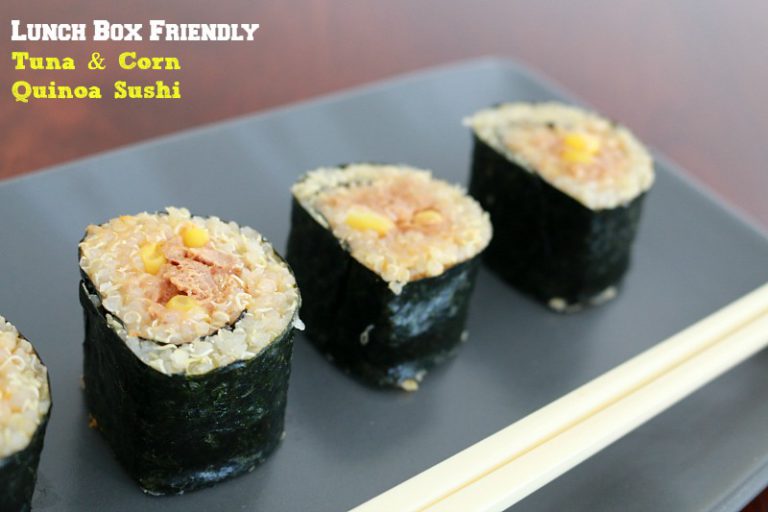 Are you sick and tired of making the same old sandwich every single day for your little one? The routine of school lunches can be a very boring one indeed! Add to that the fact that what you put into a lunch box will often come home only half eaten and it can be a very frustrating process indeed!
To combat lunch box boredom (it's totally a thing), you really, REALLY need to make a batch of quinoa sushi. Of course you could make a batch of sushi using sushi rice, but this is seriously great stuff. Quinoa sushi has the added benefit of containing a little nutritional powerhouse called… yep, you guessed it, quinoa! Quinoa is high in protein and is gluten-free. It's also a complex carbohydrate and is low GI. Quinoa is also a low calorie option. So pretty much, quinoa sushi is an awesome little lunch box filler (and don't forget to make some for yourself too!).
When you're sending quinoa sushi to school in a lunchbox, make sure you pop it next to something cold (like a frozen Prima) so that it stays cold. A little tip is to make your quinoa ahead of time and refrigerate until you need it. You'll find it's much easier to roll the sushi when you're using cold quinoa. Also make sure you pack it down firmly with the back of a spoon before rolling.
This Tuna and Corn Quinoa Sushi is always a winner with the little ones (and the big people too actually!).
Enjoy!
Lunch Box Friendly Tuna and Corn Quinoa Sushi
Ingredients
1 cup quinoa
2 cups water
2 tbs rice vinegar
3 nori sheets
200g tinned tuna, drained well
150g tinned corn, drained well
3 tbs mayonnaise
Instructions
Rinse the quinoa under cold water.
Place the quinoa into a saucepan, cover with a lid and bring to the boil.
Reduce to a simmer until all of the liquid has been absorbed.
Place the quinoa onto a plate and cool to room temperature before placing into the fridge to cool completely (if you're rushed for time, simply cool the quinoa to room temperature).
Place a nori sheet onto a bamboo mat.
Spread the quinoa 2/3 of the way across the nori sheet (leaving a 1 inch gap on the side farthest from you).
Mix the drained tuna, corn and mayonnaise into a small bowl.
Spread 1/4 of the tuna mixture in a long strip horizontally through the middle of the quinoa. Make sure you don't overfill the sushi or you wont be able to roll it!
Moisten the opposite end of the nori sheet with water (the part that doesn't have any quinoa).
Use the bamboo mat to tightly roll the end closest to you toward the farthest end. You should end up with a long cylinder shape.
Cut each sushi roll using a sharp knife into 6 pieces.
https://mumslounge.com.au/lifestyle/food/lunch-box-friendly-tuna-and-corn-quinoa-sushi/