Honey and Almond Energy Balls Recipe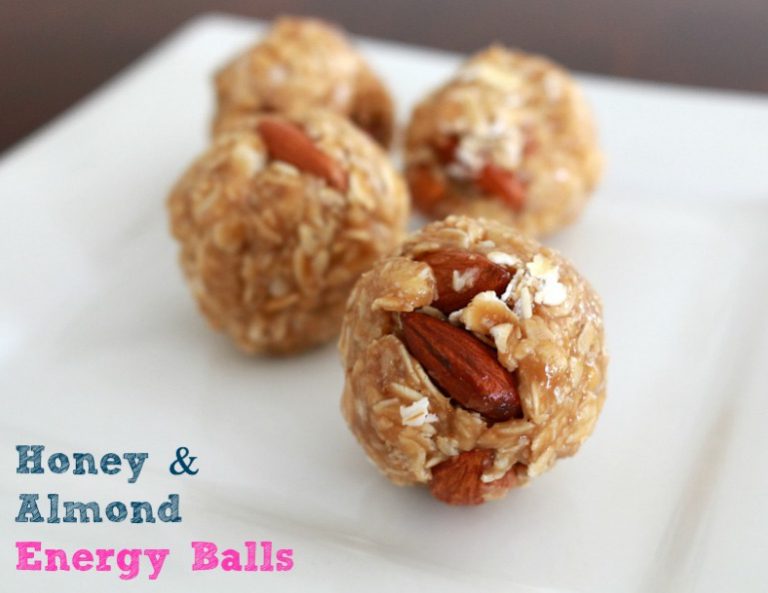 Honey and Almond Energy Balls Recipe
If you're anything like me (and pretty much everyone else in the world!), you hit a major energy roadblock at about 3pm. And so of course, this is usually the time I go searching for a Caramello Koala or hope that I've still got half a chocolate bar hidden in my desk drawer. This little chocolate routine has served me very well for many years. However, I know that I really need to try and get my afternoon energy fix in a healthier way.
So I've set out on a little adventure to experiment with baking with as many different healthier afternoon snacks as I can. And I've made myself a few little rules for this journey (yes, I am a total nerd).
The snack must taste super yummy (so I don't miss my chocolate fix too much).
It must be easy to make (I have more important things to do on my weekends… like watch trashy reality TV).
It must make enough to last me the week (otherwise, we all know that I'll be running into the supermarket for a giant Freddo Frog).
So, for my first 'healthier-afternoon-snack-so-I-don't-overdose-on-chocolate' recipe is for Honey and Almond Energy Balls.
To be honest, I usually start the day off really healthy. I love my oats with yoghurt, fruit and nuts… you see, it's only as the day wears on that my good habits fall by the wayside! So I thought that if I could create a healthy snack that tastes a bit like my usual breakfast, I'd be satisfied… and so came about the idea of these Honey & Almond Energy Balls.
Now these balls do still have a little bit of sugar in them – so they're not totally healthy (but they're a heck of a lot better than my usual naughty afternoon pick-me-up). They're also packed full of almonds, which I found filled me up and kept me going until dinner. They also passed all three of my rules – with flying colours actually!
So, if you're after a healthier afternoon treat – these little babies are for you! You wont even miss your usual Caramello Koala (well… maybe just a little!).
Honey and Almond Energy Balls Recipe
Ingredients
¼ cup smooth peanut butter
¼ cup honey
1/3 cup brown sugar
1 tsp vanilla extract
4 tbs butter
2 cups rolled oats
½ cup rice bubbles
¾ cup dry roasted almonds
Instructions
Place the rolled oats, rice bubbles and almonds into a large bowl. Mix to combine.
In a small saucepan, bring the peanut butter, honey, brown sugar, vanilla essence and butter to a boil (stirring continuously).
Reduce the heat and simmer (while stirring) for 2 minutes or until the sauce has thickened.
Pour the sauce over the dry ingredients and mix really well – so that all of the dry ingredients are completely covered.
Use your hands to roll the mixture into tablespoon-sized balls.
Place into an airtight container and store in the fridge for up to 5 days.
https://mumslounge.com.au/lifestyle/food/honey-almond-energy-balls-recipe/