No Bake Honeycomb Slice Recipe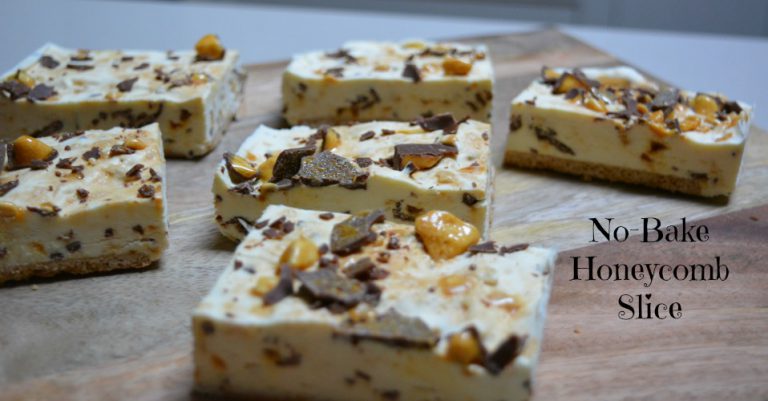 No Bake Honeycomb Slice Recipe
This absolutely delicious No Bake Honeycomb Slice has only FOUR ingredients in it; sweetened condensed milk, cream, biscuits for the base and Violet Crumble bars. It is a frozen dessert that is incredibly easy but tastes absolutely out of this world with hardly any effort.
A layer of sweet biscuits sits on the bottom of the tray, the cream and condensed milk is whipped together with some of the chocolate in the mixture and the rest is sprinkled on top then popped into the freezer.
I made this on Wednesday and we had friends over for dinner on Saturday night. I had already made a pavlova but at the last minute remembered this and got it out of the freezer in case the kids didn't like the lemon in the pavlova. Everyone ended up having a piece of each and this was a massive hit!
No Bake Honeycomb Slice Recipe
Ingredients
250g packet malt biscuits (or any sweet plain cookies)
600ml thickened cream
395g can sweetened condensed milk
4 x 50g Violet Crumble chocolate bars
Instructions
Line 2 x 18cm x 28cm slice trays with non-stick baking paper
Lay the cookies over the base of the trays.
Beat the cream with an electric mixer (or whisk by hand) until stiff peaks form.
Add the condensed milk and continue to beat until thick.
Crush the Violet Crumble bars and fold through 3 of the chocolate bars into the cream mixture.
Divide the mixture in half and layer over the cookies.
Sprinkle the remaining Violet Crumble bar over the tops.
Freeze overnight or until set.
Cut into squares.
https://mumslounge.com.au/lifestyle/food/no-bake-honeycomb-sice/