Nutella and Banana Roll Ups Recipe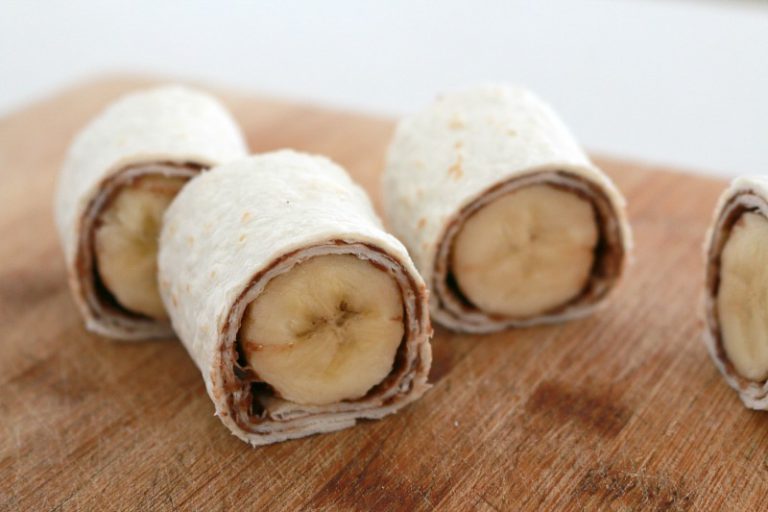 We all know that the best way to eat Nutella is straight out of the jar with a spoon. While hiding. In the cupboard. At midnight. Well now there's a yummy new way to enjoy Nutella (without the need to hide!)
To make these Nutella & Banana Roll Ups, you'll only need 3 ingredients and they take less than 2 minutes to whip up! Seriously, how good is that. It's exactly what you need when you're after a quick and tasty snack! These roll ups are perfect for an after-school snack, breakfast on the go, or an easy snack to take on long car trips. In fact, they're so easy that the kids will be rolling their own wraps in no time!
To make the roll ups you will need to lay a round tortilla wrap on a flat surface. You can use white, wholemeal or grain wraps – whatever suits you and your family. Spread the wrap completely with a thin layer of Nutella (and yes you totally have permission to have a sneaky spoonful as you go). Place a banana at one end of the wrap and roll the tortilla over and over again until you have a tight cylinder shape. It doesn't matter if the banana doesn't go right to the end of the wrap, simply cut off the ends and discard (and by discard, I mean, eat – hey, those yummy little ends are covered in Nutella, it would be a crime to toss them out!).
Once you have your long cylinder shape, cut the wrap using a very sharp knife into 1-2 inch sized pieces. Eat immediately. If you're wanting to take the roll ups in the car or pack into school lunch boxes, you can either leave them uncut and wrap tightly in plastic wrap or you can slice into pieces and pop a little toothpick through the middle to keep the wrap in place.
These roll ups taste best when made using fresh, soft wraps (they'll also roll a lot easier too!). However, if you have some leftover wraps in the freezer, you can always defrost them to use – but just make sure you eat them immediately as they will start to harden over time.
If you're after a slightly healthier option than Nutella, you can always make your own using hazelnuts, cocoa powder, honey, coconut oil and vanilla essence.
What's your favourite Nutella flavour combination? Banana and Nutella is my favourite, but to be honest I wouldn't say no to Nutella and strawberries either!