One Pan Italian Chicken and Rice Recipe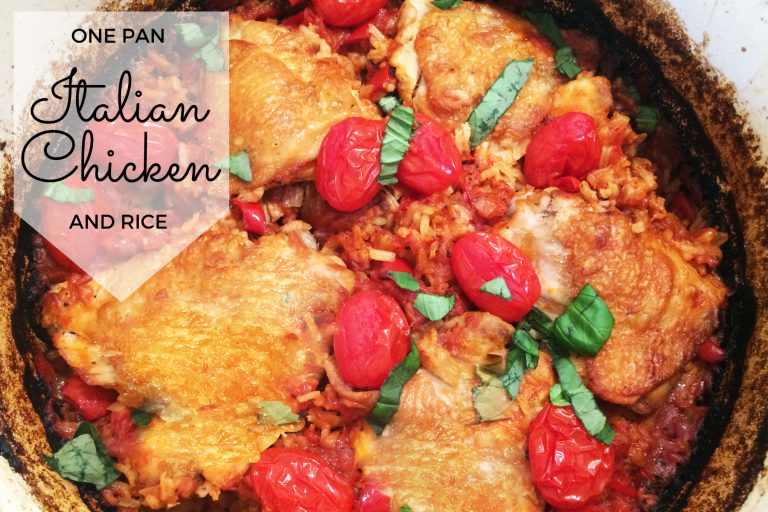 One Pan Italian Chicken and Rice Recipe
If you love Italian comfort food combined with one pan cooking, then this chicken and rice recipe is for you! Tomato, garlic rice combined with tender juicy chicken? Ohh yes please!
There's really not a lot to this recipe, which makes it a mum-pleaser as well as a crowd pleaser. Here are all the ingredients you'll need to get it on your table.
About a kilo of chicken thighs – there were five in my packet which worked out well to serve one each to four bigger people with the fifth being cut in half for the youngest two. You'll also need some olive oil, salt and pepper, dried basil, a tin of tomatoes, chicken stock, long grain rice, cherry tomatoes, an onion, sun dried tomatoes, a red capsicum, garlic and fresh basil.
First, you need to sear the chicken to get the skin all nice and crispy, then you remove the chicken to a plate and fry the garlic, onion and capsicum. Then add the rice, tin of tomatoes, stocks, seasonings, sun dried tomatoes and bring to the boil. Return the chicken to the pan (skin side up, keep it crispy!), cover and oven bake.
Then scatter some cherry tomatoes on top and pop under the grill to crisp up that skin even further.  Sprinkle with fresh basil leaves and serve!
Absolutely delicious!
One Pan Italian Chicken and Rice
Ingredients
1kg chicken thighs, skin on, bone in
1 tbsp olive oil
2 cloves garlic, chopped
1 onion, diced
1 red capsicum chopped
1/3 cup sun dried tomato strips in oil, chopped
1 cup long grain rice, rinsed
1 tin diced tomatoes
1 1/2 cups chicken stock
Salt and pepper to taste
1 tsp dried basil
1/2 punnet of whole cherry tomatoes
chopped fresh basil (to serve)
Instructions
Preheat oven to 200 degrees C. Heat the oil in a large, deep ovenproof cast iron pan. Add the chicken, skin side down and sear for 3-4 mins on medium-high heat. Turn each thigh and sear until golden all over. Transfer the chicken to a warm plate.
Add the garlic and fry until fragrant, about 30 seconds. Add the onion and capsicum and fry for 3 minutes or until and onion is transparent. Stir in the sun dried tomatoes, rice, tin of tomatoes and chicken stock. Season with salt, pepper and dried basil. Bring to a simmer, stirring.
Place chicken thighs skin side up over rice, cover and place in oven. Bake for 40 minutes, or until the rice has softened and absorbed the liquid and the chicken is cooked through. Stir through an extra 1/4 cup of water to the rice if rice hasn't cooked.
Remove cover, top with cherry tomatoes and grill for a further 8-10 minutes or until the chicken is crispy and golden. Sprinkle with freshly chopped basil to serve.
https://mumslounge.com.au/lifestyle/food/one-pan-italian-chicken-rice-recipe/