Perfect Chocolate Brownies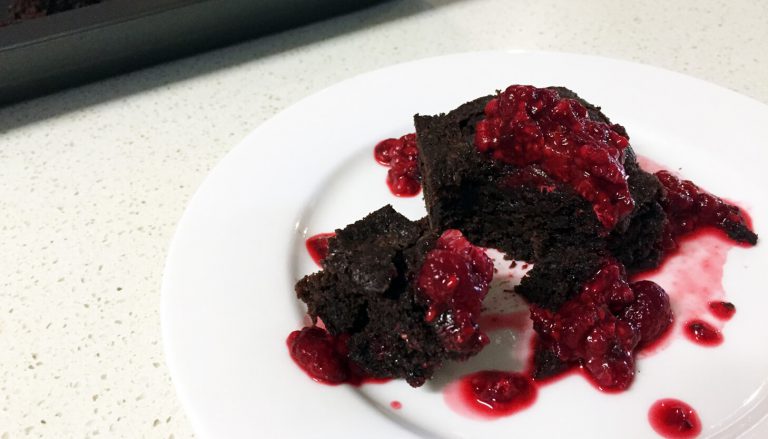 I'm yet to meet anyone that doesn't love a good chocolate brownie. The perfect balance of sweet, gooey and warm. Mmmmmm!
I shared these tried and true chocolate brownies over on Keep Calm Get Organised almost a year ago and they've been a massive hit ever since. I think you'll love them too!
They are the perfect treat to freeze and keep on hand for school lunches or a sneaky afternoon treat. Grab a cup of tea, heat them up and you're ready to go.
Enjoy!
The Perfect Chocolate Brownie Recipe
Perfect Chocolate Brownies

Ingredients

⅓ cup butter, melted
1 1⁄2 cups caster sugar
1 tsp vanilla extract
2 large eggs, lightly beaten
¾ cup plain flour
⅓ cup cocoa powder
½ cup choc chips

Instructions

Preheat oven to 180 degrees (fan forced)
Combine all dry ingredients in a large bowl and mix well, making sure to remove any lumps.
Add in eggs, vanilla and butter and combine (you don't need to beat it, just mix until all combined).
Line a shallow baking pan.
Pour in mixture and place into oven.
Bake for 20-25 minutes or until the brownie springs back lightly when pressed. DON'T OVERCOOK!
Leave to rest for 20-30 minutes before slicing.

https://mumslounge.com.au/lifestyle/food/perfect-chocolate-brownies/
I like to serve mine with a berry coulis, basically just cooked berries with a little added sugar and water.
This recipe first appeared on Keep Calm Get Organised as "Easy Chocolate Brownies", it has been reproduced here with permission.