Malteser Bunny Cupcakes Recipe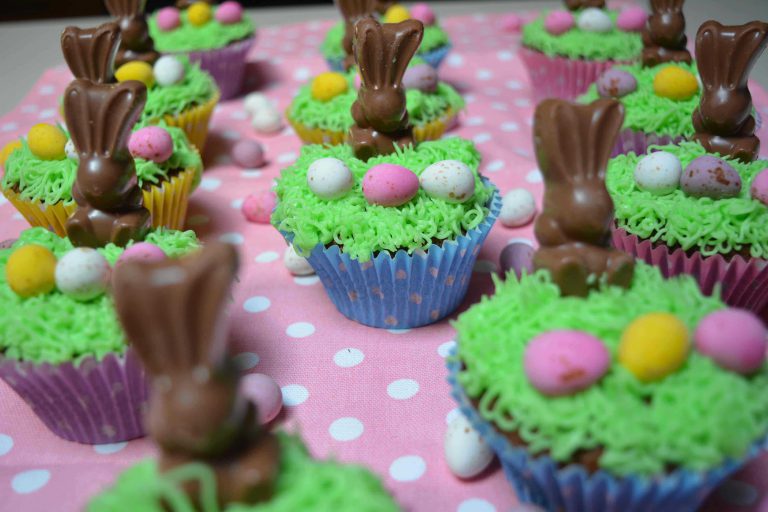 Malteser Bunny Cupcakes Recipe
I have a confession to make. I did not know of the existence of Malteser bunnies until this year and the only reason I now know about them is because I was asked to create a Malteser bunny cupcake recipe. And I literally thought 'what, so… make a cupcake in the shape of a bunny out of Maltesers'. Huh. And then when I was in the supermarket stocking up on Easter eggs to make some other recipes I came across them and the lightbulb went on. How did I not know about these before now? Where have I been?
These cupcakes are SOO delicious. Not only do they have these gorgeous bunnies on top, and use my original Malteser cupcake recipe (which has Maltesers in the icing too but I have omitted them for this one to give the grass effect). If you don't want to go to the trouble of an actual recipe I promise I won't tell if you use a packet mix but I promise you this is really, really good and super easy.
The piping tip I used to make the grass has lots of little holes in it (which I previously used to make a Cookie Monster cake) but any sort of nozzle will do if you just want to pipe little blobs of grass instead. I just love these cupcakes they are so cute for the little kids AND the big ones if your life.
Malteser Bunny Cupcakes Recipe
Ingredients
Cupcakes
25g malted milk powder
1 tsp cocoa powder
95g self-raising flour
1/4 tsp baking soda
125g caster sugar
140g unsalted butter, softened
2 large eggs
1 1/2 tbsp. milk
Icing
150g unsalted butter, softened
1 tbsp. milk
340g icing sugar
Green food colouring
Cadbury Mini eggs to decorate
12 x Maltesers bunnies to decorate
Instructions
Pre-heat the oven to 190C/170C fan-forced/375F. Line a 12-hole muffin tray with paper cases.
Combine the dry ingredients in a large mixing bowl. Add the butter, eggs and milk and beat with an electric mixer until combined. Spoon into the patty cases and bake for 20 minutes or until done.
Leave in the pan for a few minutes then transfer to a wire rack to cool completely before decorating.
Icing: Beat the butter with the icing sugar, then add milk and beat until combined.
Ice the cupcakes and top with Malteser bunnies and mini eggs to decorate.
https://mumslounge.com.au/lifestyle/food/malteser-bunny-cupcakes-recipe/
Carolyn started her blog Pinkpostitnote.com just over a year ago as a way to deal with her obsession of trying new recipes from the copious collection of cookbooks that she owns (and continues to buy). She is particularly fond of "man" food, both cooking it and eating it. She will happily elbow people out of the road at the sight, sound and smell of a pulled pork burger. When she's not lying awake at 5am wondering if she should buy chooks and a cow to deal with the constant need for eggs and butter, she's dealing with all the paperwork associated with owning a bunch of tip trucks and her favorite time of the day is wine five o-clock.