Recipe: Sam Canning's Beef Short Ribs in Master Stock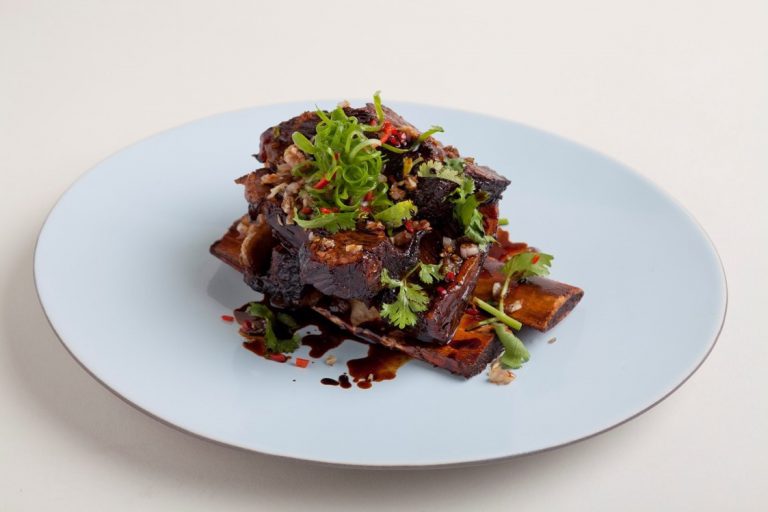 Sam Canning's Beef Short Ribs in Master Stock
Recipe: Sam Canning's Beef Short Ribs in Master Stock
Ingredients
6 x Cape Grim beef short ribs
3 x red onions
6 x garlic cloves
1 x 500ml Stock Merchant master stock
1 x red chilli (optional)
Coriander (to garnish)
Instructions
• Preheat oven to 220c.
• Finely slice red onions, chilli and garlic and place in a ceramic, cast iron or pyrex baking dish.
• Place Cape Grim beef short ribs on top, fat side up. Make sure there is at least 1cm between each short rib.
• Pour in the whole pouch of Stock Merchant master stock. The ribs don't need to be fully submerged in stock, half is enough.
• Place lid on or cover in foil. Be sure to close all edges if using foil.
• Bake for 30 minutes on 220c, then reduce heat to 120c for an additional 7 hours.
• Flip around and rotate the ribs each hour.
• Once the seven hours are complete, remove lid, return all ribs to fat-side-up and bake for another 30 minutes on 180c.
• Serve with an Asian slaw, or perhaps a sweet potato mash with a little sesame oil in it. Garnish with coriander or thyme.
https://mumslounge.com.au/lifestyle/food/recipe-sam-canning-s-beef-short-ribs-in-master-stock/
*Cape Grim beef short ribs and Stock Merchant master stock are available at Cannings Butchers, Hawthorn and Kew.
More delicious recipes at Mums Lounge: