Rendang Beef and Vegetable Curry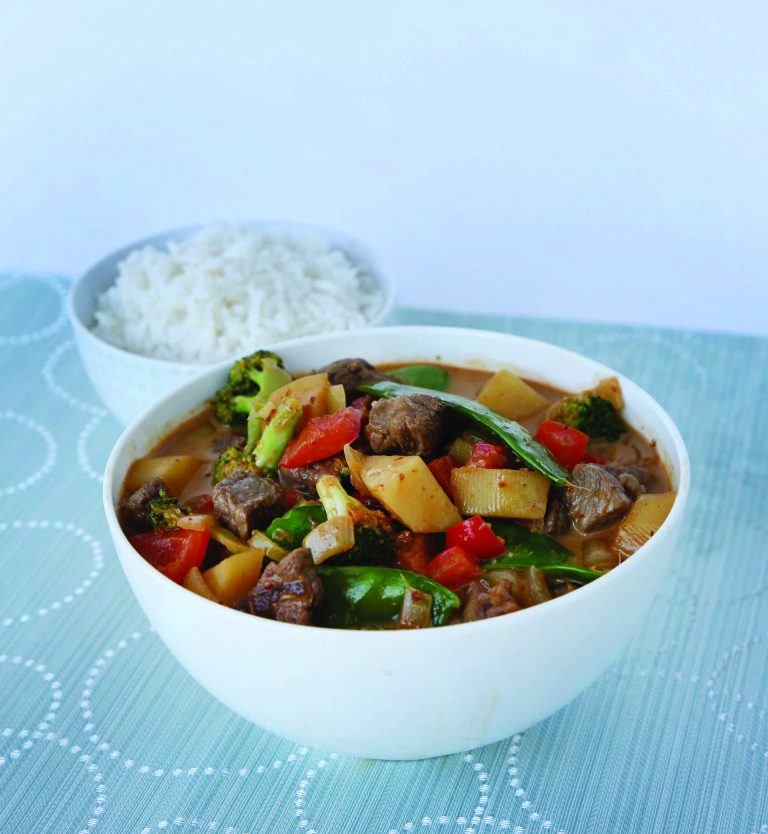 Rendang Beef and Vegetable Curry
SERVES: 4
RECIPE FROM SYMPLY TOO GOOD TO BE TRUE BOOK 7
Rendang Beef and Vegetable Curry
Ingredients
300g potatoes
cooking spray
500g rump steak cut into bite-size pieces
1 teaspoon crushed garlic (in jar)
1 onion cut in quarters then sliced
2 cups small broccoli florets
1 cup red capsicum diced
½ cup water
20 snow peas
3 tablespoons Malaysian Rendang Curry Paste (in jar)
2 tablespoons kecap manis sauce
2 teaspoons soy sauce 43% less salt
1 tablespoon cornflour
1 teaspoon coconut essence
1 x 375ml can evaporated light milk
Instructions
Step 1: Peel and chop potatoes into bite-size pieces. Parboil in a little water in microwave for 5 minutes. Drain and leave to one side.
Step 2: In a large non-stick frypan that has been coated with cooking spray, place diced rump and garlic into pan and toss together until meat has browned. Remove and leave to one side.
Step 3: Re-coat pan with cooking spray then add onion, broccoli and capsicum with ¼ cup water and cook 3 minutes. Add snow peas and potato with the extra ¼ cup water and cook 2-3 more minutes or until vegetables are almost cooked.
Step 4: Add Malaysian paste and fold through vegetables. Cook for 2 minutes. Add kecap manis and soy sauce and combine well.
Step 5: Add the meat back to pan.
Step 6: Combine cornflour with coconut essence and evaporated milk, then add to pan, stirring continuously until just boiled. Do not overboil sauce, as the milk may separate. When boiled, take off heat and serve.
Variations: Replace rump with 500g of raw skinless chicken breast or lean lamb leg steaks. For vegetarian version, add ¾ cup sliced carrots, ¾ cup sliced celery and ¾ cup sliced zucchini. Add extra vegetables with the broccoli, and cook until vegetables are to your liking.
https://mumslounge.com.au/lifestyle/food/rendang-beef-and-vegetable-curry/
Suitable to be frozen for 2-3 weeks.
DIETITIAN'S TIP:
A variety of different-coloured vegetables provides us with many more vitamins, minerals, antioxidants and phytochemicals than just one type of vegetable. We need this variety to delay or prevent heart disease and diabetes.
NUTRITIONAL INFORMATION

PER SERVE

RUMP

CHICKEN

LAMB

VEGETARIAN

FAT   TOTAL

6.8g

6.4g

11.0g

3.7g

SATURATED

3.5g

2.9g

5.7g

2.1g

FIBRE

4.0g

4.0g

4.0g

5.6g

PROTEIN

42.6g

41.6g

40.7g

14.0g

CARBS

31.8g

31.8g

31.8g

34.1g

SUGAR

19.0g

19.0g

19.0g

21.0g

SODIUM

460mg

466mg

475mg

430mg

KILOJOULES

1516 (cals 362)

1485 (cals 355)

1641 (cals 392)

952 (cals 227)

GI RATING

MEDIUM

MEDIUM

MEDIUM

MEDIUM

Find out more from Annette Sym about delicious low fat family recipes, and healthy living and weightloss at www.symplyliving.com.au