Strawberry Ricotta Pie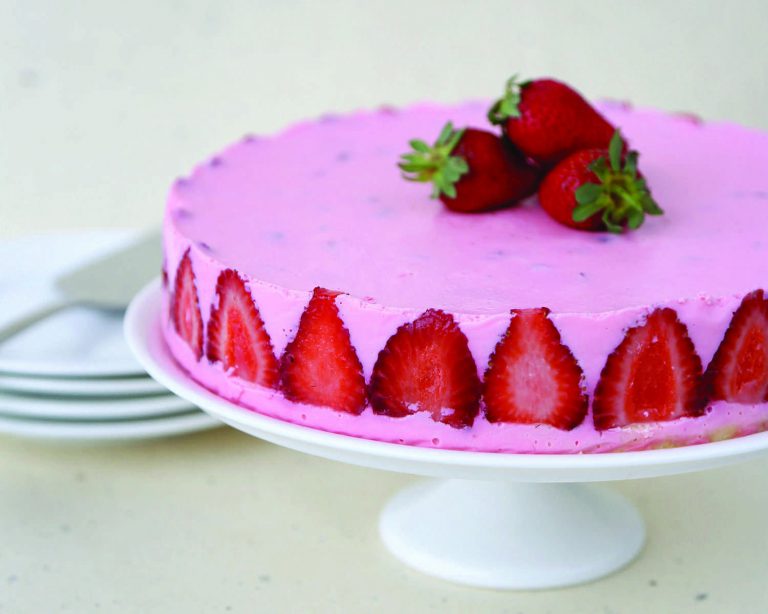 Strawberry Ricotta Pie
SERVES: 12
RECIPE FROM SYMPLY TOO GOOD TO BE TRUE BOOK 7
Ingredients
PASTRY:
¼ cup plain flour
¼ cup self-raising flour
1 tablespoon white sugar
1 tablespoon (30g) Flora® Light margarine melted
1 egg white
a little extra plain flour for rolling
cooking spray
FILLING:
baking paper
250g punnet medium sized strawberries
1 x 9g sachet strawberry Jelly Lite™
1 tablespoon gelatine
¼ cup boiling hot water
500g light ricotta cheese
250g low-fat cottage cheese
2 x 175g tubs strawberry formé yoghurt (Yoplait®)
1 teaspoon vanilla essence
⅓ cup white sugar
Instructions
Step 1: Pastry: Sift flours into a medium size mixing bowl, add sugar and combine.
Step 2: Combine melted margarine with egg white then add to bowl. Mix together using a wooden spoon, then knead ingredients using your hands.
Step 3: Place pastry onto a well-floured surface and sprinkle flour on top, then roll out to fit in the base of a 22cm springform cake tin that has been coated with cooking spray.
Step 4: Lift pastry into cake tin by rolling pastry over rolling pin. Press pastry out to reach edges so there are no gaps. Pastry only goes on base not up the sides of the tin. Bake for 10 minutes then leave to cool.
Step 5: Filling: Cut baking paper to fit around the inside wall of cake tin.
Step 6: Hull and cut each strawberry into slices and place the centre slices (largest) around edge of tin that has been lined with the baking paper. SCAN QR CODE to see how to do this.
Step 7: Dice remaining strawberries for filling.
Step 8: Dissolve jelly crystals and gelatine in boiling water. If needed, place in microwave for 10 seconds to help dissolve gelatine. Stir well.
Step 9: In a food processor, blend ricotta and cottage cheese until smooth. Add yoghurt and vanilla essence, blend for a few seconds. Gradually add sugar and blend until dissolved.
Step 10: Pour jelly mix slowly into filling and blend well. Remove blade then stir in chopped strawberries. Gently pour filling into centre of cake tin, making sure the strawberry slices on the edge don't fall out. Refrigerate for a few hours until set.
https://mumslounge.com.au/lifestyle/food/strawberry-ricotta-pie/
Suitable to be frozen for 2-3 weeks.
DIETITIAN'S TIP
Annette uses light ricotta cheese, low-fat cottage cheese and yoghurt to make a fantastic, low-fat pie filling.
NUTRITIONAL INFORMATION

PER SERVE

FAT   TOTAL

3.4g

         SATURATED

1.6g

FIBRE

0.7g

PROTEIN

8.5g

CARBS

16.1g

SUGAR

12.0g

SODIUM

167mg

KILOJOULES

540 (cals 129)

GI RATING

MEDIUM
Find out more from Annette Sym about delicious low fat family recipes, and healthy living and weightloss at www.symplyliving.com.au